Henderson Chambers' Beatrice Graham reflects on her career journey while offering advice to aspiring barristers aiming to secure pupillage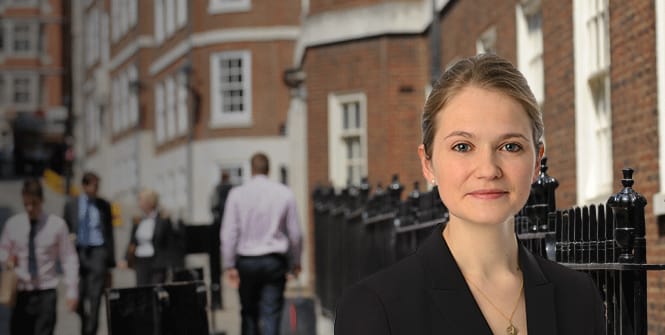 Until the Graduate Diploma in Law (GDL), Henderson Chambers barrister Beatrice Graham was actually on track for a career as a solicitor.
At the time Graham, who had completed an English language & literature degree at the University of Oxford, had already secured a training contract at a magic circle law firm. After a year of studying the GDL, she realised that she was drawn more towards the bar — she was attracted by the academic rigour the profession brought and she wanted to have "a sense of ownership and oversight" over her work, she tells me. As a barrister, Graham enjoys getting to know her cases in detail and getting a chance to grapple with its legal issues thoroughly. Even when being led by a silk (sometimes known as a QC) as part of a counsel team, she is still able to have a degree of ownership in that she can feed into "big strategic decisions" about how the case is run, Graham explains.
For aspiring legal professionals who are unsure of whether to go down the barrister or solicitor route, Graham says the decision ultimately comes down to "your character" and "what you are looking for in your career". Graham knew she wanted to be involved in litigation but for litigation solicitors, they "tend to be involved in the case for a long time before it reaches trial". But barristers often go straight into trial prep and then into court, so turnover of work tends to feel "quicker and punchier", she explains. Additionally, she feels there is more independence at the bar as you are self-employed. That does mean that you have the flexibility to control your flow of work but it also means that when you have a case and solicitors ask the hard questions, "the buck stops with you and your advice". She acknowledges that this level of responsibility can be overwhelming and some aspiring lawyers may prefer working as part of a team in a solicitors' firm. For her, it is "totally scary but really affirming when it goes well".
It is this independence and self-belief that is crucial to succeeding at the bar. Graham also says it helps if aspiring barristers are "personable and easy to work with". This is particularly important as it allows you to maintain strong relationships with solicitor clients, who ultimately provide barristers with repeat work. Although academic and intellectual ability are "right up there" in terms of importance, aspiring barristers also need to be able to think practically and strategically about how their advice can impact their client's case. For example, and especially in lower value cases, a barrister must carefully consider the costs implications when advising whether to pursue litigation or consider settlement.
In terms of honing these skills, Graham recommends mini-pupillages. She herself completed about six minis in the space of two years. The benefits of undertaking mini-pupillages are threefold: firstly, you are able to get yourself on a chambers' "radar", becoming known to them ahead of applications or interviews. Secondly, you get a sense of whether you would be a good fit at that chambers, whether it has the right balance of court work and non-court work for you, and whether you would enjoy tenancy there. During a mini-pupillage you will usually spend one-on-one time with a barrister, often a junior tenant, which will give you a better understanding of what their role entails. Graham stresses you should factor this experience in when applying for pupillage. If a chambers does not seem to be quite what you are looking for during a mini-pupillage, you should think twice before applying to spend your whole pupillage year there. Thirdly, you get a flavour of the various practice areas on offer.
For those unable to secure mini-pupillage for whatever reason or who feel their experience of mini-pupillages has been disrupted by Covid, Graham stresses that this shouldn't put them off applying for pupillage. Any experience, whether paid employment or any extra-curricular activities, can and should be used in your written applications and interviews. The aim is to "draw out what skills and qualities the work demonstrated and why those qualities are important at the bar", she says. For example, she used her time as a university student representative to demonstrate advocacy skills and the Saturday job she'd held since school to show her ability to organise and manage her time. It doesn't need to be legal work experience and it doesn't need to be "glitzy", she explains. Rather, all experiences can demonstrate certain skills so "focus less on the day-to-day content of non-legal work experience and focus more on the qualities it demonstrates about you".
When it comes to submitting pupillage applications, Graham advises avoiding "a scattergun approach" — that is, sending generic applications to a lot of sets. This approach is unlikely to be successful. Instead, select your target chambers and spend time putting together a thorough application. Graham estimates that this will take "at least half a day" so advises that you begin working on the questions as soon as you can. When selecting chambers, ask yourself: "if I got an offer from this set for pupillage and it was my only offer, would I want go?". To answer that question, it is important to know each of your target sets thoroughly. Start by reading their focused profiles on legal resources, such as The Legal Cheek Chambers Most List 2022.This will give you a great starting point on what the barristers, who will often be conducting the interviews, do and gives you an idea of the structure of pupillage at those sets. If you are applying to sets which undertake a broad range of work, look at how their barristers are ranked in legal directories and recent news items on the chambers' website to work out the areas that set is excelling in. Equally important is speaking to barristers themselves, according to Graham: "Attend Legal Cheek events and be sure to stay for the post-Q&A networking!"
Reflecting on her journey and experiences so far, Graham rounds off her advice with this:
"It's ok to be nervous about the process. Just remember, though the process is stressful, through it you are building the very qualities and resilience that you need to be a success at the job."
Beatrice Graham will be speaking alongside other barristers at 'How to secure pupillage — with Gatehouse Chambers, Henderson Chambers and Radcliffe Chambers', a virtual student event taking place this week, on Thursday 20 January. You can apply to attend the event, which is free, now.
About Legal Cheek Careers posts.