Matt Tomlinson reflects on his career journey from solicitor to dean of The University of Law's Leeds, Sheffield and Newcastle campuses, and shares what he loves about the North of England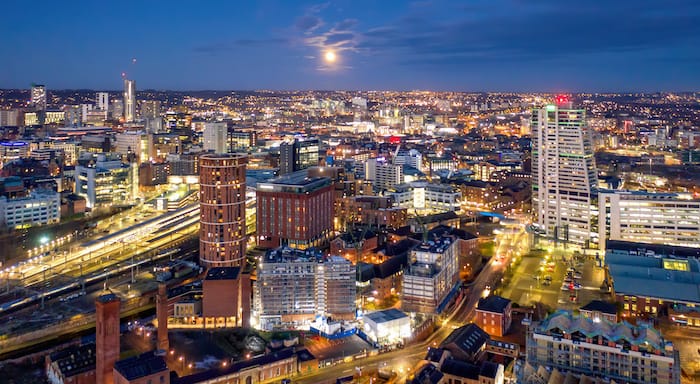 The expansion of the northern legal sector over the past decade means that areas like Leeds are attracting more big firms and clients than ever before. This has brought with it great training opportunities and made it an increasingly popular place to launch and grow a successful legal career.
Ahead of his appearance at our in-person event in Leeds, we caught up with The University of Law's Leeds, Sheffield and Newcastle campus dean Matt Tomlinson, to find out about his career journey and why he loves the North.
Can you briefly tell us about your background and your role as campus dean?
I joined the ULaw Manchester campus in 2013 as a Visiting Lecturer alongside working full-time in practice. I enjoyed teaching and the culture of The University of Law (ULaw) so much that the following year I decided to take a full-time position as a lecturer. I've never looked back. I've found supporting the next generation of legal talent through their studies immensely rewarding. I have been very fortunate to have had a very varied career at ULaw and have led some brilliant projects that have supported ULaw's impressive growth. I was appointed dean of the Leeds campus in September 2018 and subsequently set up the Sheffield and Newcastle campuses.

You studied in Sheffield and later worked as a solicitor in Manchester. What is it about the North that makes it so appealing to you?
I am from the North of England — I grew up in the Lake District, so about as far North in England as you can get. I love the North, the people, its cities, its countryside. Whilst each northern city has its own personality, there is a common shared pride among its people. Living and working in the North provides a different opportunity in terms of work/life balance. The North holds an abundance of exciting careers opportunities, yet also allows you to benefit from a more accessible property market, shorter commutes and quicker access to some of Britain's most impressive green space. The last few years has seen a solid stream of southern relocators coming up to the North to take advantage of this lifestyle.
In your view, how has the northern legal sector changed in the last decade?
For such a long time London was perceived to be 'the' place to go to find quality work and it was certainly true that most major businesses were based there. North shoring, improved connections to the North and advancements in technology have meant swathes of businesses historically based down south have relocated to northern cities and this has seen northern cities flourish with opportunity. The landscape of northern cities has completely changed and they are an exciting place to be. Law firms particularly have grown on the back of this and there have both new entrants and office expansions into northern legal markets. This has seen an abundance of new opportunities for those starting out their legal career.
You completed placements in France during your studies, would you recommend placements abroad to your students?
Absolutely! The time I spent in France was perhaps the most influential in terms of my personal development. Being immersed into another culture and interacting with people from different backgrounds (in another language) really tested my interpersonal skills and my experience working in industry gave me my first proper exposure to a professional environment. I think placements are an incredibly enriching asset to have on your CV.
You qualified in the aftermath of the 2008 financial crisis, do you have any advice for aspiring lawyers entering a job market that could be facing economic change?
I think my overwhelming advice is to be as open-minded and flexible as possible. If you are overly prescriptive in what you want to do, you invariably don't consider opportunities that could be great ones. The saying 'many roads leads to Rome' is a good mantra to adopt. So long as you are progressing in a positive direction and you possess a positive attitude and work ethic, you will find a successful career. Very few people at the end of their career, anticipated where they'd end up when they started out.
What prompted your move into legal education?
Whilst I thoroughly enjoyed my time in practice, I ultimately wanted to pursue something that enabled me to be more creative. Legal education is an exciting space that is constantly evolving and it felt like an exciting opportunity to be part of that and to be able to help shape and support the next generation of aspiring lawyers. ULaw has had an incredible journey of success over the past ten years and it has been a real privilege to have been part of that.
How are your campuses supporting future lawyers in their commercial understanding?
Our curriculum is very practical in its focus so everything we teach our students draws on real life examples and encourages them to develop awareness of the commercial world and how their role as a legal adviser sits within this. Beyond the classroom there is also a large variety of opportunities that our students can explore to enhance their CVs and prepare them for work. We have brilliant pro bono schemes and employability sessions, in addition to mentoring schemes, competitions and external events, all of which give students the chance to interact and hear from people in practice and to develop their commercial awareness.
Matt Tomlinson will be speaking at 'Secrets to Success Leeds — with Eversheds Sutherland, Pinsent Masons, Walker Morris and ULaw', an in-person student event taking place on Wednesday 8 March at ULaw's campus in Leeds. You can apply to attend the event, which is free, now.
About Legal Cheek Careers posts.