ULaw Leeds and Sheffield campus dean Matt Tomlinson highlights the opportunities available to students in the northern city regions and shares his advice on securing a TC amid the COVID crisis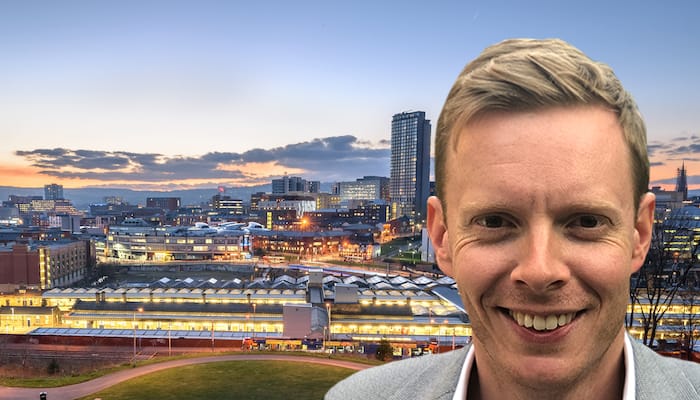 Yorkshire has long been a thriving legal hub in the North.
As businesses increasingly look outside of London, the lower operating costs and wealth of graduate talent from universities such as Sheffield, Leeds and York to name a few, make Yorkshire a destination of choice for businesses to 'northshore', explains Matt Tomlinson, dean at The University of Law's (ULaw) Leeds and Sheffield campuses.
Equally, a legal career in the northern city regions is an attractive choice, he adds. Regional lawyers are exposed to top international work. "Work in Sheffield, for example, is not of a lesser quality than in London", Tomlinson emphasises, addressing a possible misconception that students may have.
In fact, as law firms are increasingly recognising the importance of a work/life balance and the wellbeing and mental health of their staff, this can arguably be better achieved in the regions. With access to open countryside, lower property costs and commutes into work that are often much shorter than in London, lawyers in the regions can have "the best of both worlds — working in a leading law firm with London quality work but being at your front door within 20 minutes and being able to go for a cycle in the Peak District". While a legal career up North is by no means a nine to five job, "a real balance can be achieved" in the regions.
ULaw's new tie-up with the University of Sheffield will provide a way for students wanting to stay in Sheffield for their postgraduate legal training to do so with a top provider. With the direction of legal education changing once the Solicitors Qualifying Exam (SQE) comes into force, Tomlinson describes the tie-up as a "natural partnership" which will see students benefitting from ULaw's expertise in providing legal training and Sheffield University's reputation in research. A major draw for students to study at the new ULaw Sheffield campus is the option to study within a Russell Group university setting and be able to actively participate in Sheffield's extra-curricular activities and Student Union. The Employability team is a key feature of ULaw's offering, and Tomlinson tells me there will be a dedicated team on-site from September.
When it comes to the new age of agile working ushered in by COVID-19, Tomlinson explains that traditionally the legal profession has not embraced this style of working. But firms have been forced to work entirely remotely and have been reaping the benefits as a result. Staff have been reporting an increase in productivity, with parents able to balance work and family life perhaps more easily than was possible previously.
However, Tomlinson is doubtful as to whether, post-COVID, a shift to more permanent agile working would be the right move for law firms. While the advantages of agile working are clear, the importance of face-to-face learning in an office environment can't be forgotten. Tomlinson thinks certain aspects of office life can't be replicated in a virtual setting: for example, trainees being able to sit down with their supervisors or peers for an impromptu chat. Looking back to his time as a trainee at DLA Piper, Tomlinson shares "there was a really strong bond we [the trainees] forged with each other". In particular, "building a team emerges from working collaboratively in a shared environment" and if firms were to switch entirely to remote-working on a permanent basis "something really significant would be lost in terms of team relationships", he reflects. The wellbeing and mental health of trainees should also be an important factor for firms, with proper support inevitably more difficult to provide with staff working from home.
Having qualified in the aftermath of the 2008 financial crisis, Tomlinson advises future trainees to be mindful of practice areas that tend to see a surge in work during times of economic uncertainty, such as restructuring and insolvency. He goes on to suggest that matrimonial disputes may be another area to see an uptick in work following speculation around increased divorce rates.
Having learnt from the 2008 recession, firms should be better equipped to respond to the current economic climate. Tomlinson recounts that during the recession firms made cuts to trainees which, later down the line, inevitably led to a shortage of lawyers with post-qualification experience in certain practice areas. As a result, firms capitalised on lawyers' transferable skills and re-trained some to fill these gaps in various practice areas. It's also worth bearing in mind that the introduction of the SQE will create new routes into qualification. For example, some firms may look at graduate solicitor apprenticeships, Tomlinson explains, and new training opportunities will arise for those who may otherwise have remained as paralegals. As with any disruption to the market, the SQE "may result in a year of a more stagnant recruitment market for new entrants to the profession", but in the long-term the benefits will be clear.
When applying for training contracts, Tomlinson's top tip for students is to be proactive in their own development and learning. "If I were interviewing a candidate now, I'd be asking what they have done during COVID-19 and how they've developed their skillset", he says.
Owing to the lockdown and strict social distancing measures in place, students have faced difficulties gaining work experience so it's vital that they take advantage of online opportunities offered by their universities. Tomlinson shares that ULaw Leeds recently offered a 'COVID Revival Programme' giving students the opportunity to work with businesses, learn about the challenges that businesses face and create a revival plan to present to the business at the end of the programme. These types of opportunities enable students to build their teamwork and communication skills, as well as commercial awareness.
In addition, "having a clear opinion on the challenges facing the law firms you're applying to is absolutely critical", Tomlinson stresses. Top candidates will be able to demonstrate how they will make a contribution to the firm "beyond doing the work assigned — whether it's the business development side of the firm or CSR [Corporate Social Responsibility] activities, to ensure the firm goes from strength to strength".
Matt Tomlinson will be speaking alongside lawyers from the Sheffield offices of CMS and Irwin Mitchell at 'Secrets to Success — Sheffield', a virtual student event taking place tomorrow, on Tuesday 11 August. You can apply for one of the final few (and free) places to attend now.
About Legal Cheek Careers posts.