Legal Cheek's alternative predictions for 2018
2017 was quite a ride — this year could be even more of a rollercoaster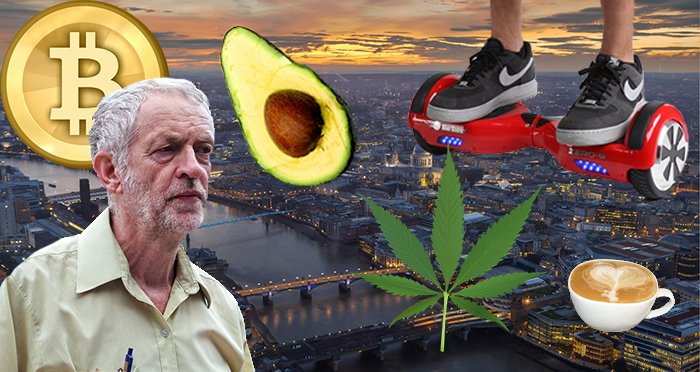 As 2018 gets underway, Lord Denning's Ghost brings you his alternative predictions.
Spring
A photo of Allen & Overy's senior partner skateboarding to work is leaked to Legal Cheek in late January — and promptly goes viral. "I don't know what all the fuss is about. I've been Instagramming pics of myself skating since last summer," says the magic circle chief. "But seeing as you ask, the backstory here is that some of the guys in Fuse, our new incubator for lawtech start-ups, suggested skateboarding as a way to get around. Being always open to innovation and new ideas this was a very natural step for me."
A peruse of the partner's Instagram shows further snaps of him laughing with friends at a bonfire of all of his suits and ties, and celebrating with his lifecoach after going fully vegan. There are also a series of arty selfies where he appears to be contemplating launching "a memoir/cookbook about my career and food journey to date".
Anxious not to be outdone, days later fellow magic circle firm Linklaters announces that its new venture capital arm is taking a majority stake in a start-up that makes self-driving AI-propelled hoverboard stand-up desks. "At Linklaters we've been into stand-up desks since before they were cool," says a spokesperson for the firm, "which means we are well-positioned to incorporate the latest self-driving AI-propelled hoverboard technology into our desks in a way that cuts through the hype."
Meanwhile, over in Canary Wharf Clifford Chance shocks the legal world by turning its swimming pool into what the firm claims is 'the world's largest ever flat white'. In a statement Clifford Chance says:
"We are impressed by what has been going on over in Silicon Valley and Shoreditch. By applying our infrastructure and resources to a key aspect of this change we are confident that together we can all move forward successfully."
An emergency board meeting is called at Freshfields in early March, with partners flown in from across the global to discuss what can be done to combat the extraordinary developments at A&O, Links and CC. A plan to replace meeting room biscuits with a range of avocado-based snacks is narrowly voted down on the grounds of being "too passé". The firm instead shocks the corporate world by introducing a marijuana use pilot that, subject to local laws, allows trainees to smoke the drug at their desk if they are required to work beyond 9pm.
Having looked on with mild disdain at the antics of the rest of the magic circle, Slaughter and May quietly releases its own cryptocurrency after the Easter break. Bunhillium immediately soars in value by 5,000%.
Summer
Theresa May's government finally collapses, with the catalyst believed to be an accident caused by government minister and former Linklaters lawyer Dominic Raab while testing a self-driving AI-propelled hoverboard stand-up desk as a favour to his old firm. With Chancellor Philip Hammond believing that the hoverboard was deliberately propelled into his shin by Raab as part of a Brexiteer conspiracy, the government descends into open warfare that May is unable to control — swiftly leading to a no-confidence vote.
In the ensuing General Election, Jeremy Corbyn's Labour sweeps to power with a record majority. The party's manifesto includes pledges to scrap all higher education fees, including for the GDL, LPC and BPTC, and bring in an "unlimited" legal aid budget. "Under this government there is no reason that every child cannot become a top human rights QC," exclaims new Attorney General Shami Chakrabarti. There is an immediate quadrupling of applications to study law at university.
Autumn
A nationwide shortage of university law lecturers creates employment for the tens of thousands of law graduates who've previously been unable to obtain training contracts.
Such is the demand that law lecturer remuneration soars above the £140,000 salary paid by Kirkland & Ellis to its newly qualified solicitors (even if the new 90% top earner tax rate means the take-home amount is considerably lower).
In October Brexit is formally cancelled by Labour. An appeal against this decision is subsequently rejected by the Supreme Court. The Canary, which is now the only newspaper in Britain after the mainstream media was banned under Labour's new freedom of expression laws, brands judges 'Friends of the people', before launching a campaign to permanently relocate the Supreme Court to Middlesbrough.
Winter
After reaching a value of £100 million per Bunhillium coin, giving it a market cap more than 15 times the value of Goldman Sachs, Slaughter and May's cryptocurrency spectacularly plummets to zero overnight. As contagion spreads to the rest of Slaughters' business, the firm is forced to relocate from its Bunhill Row office to a business park in Slough.
Corbyn's government uses the Great Crypto Crash of November 2018 as an excuse to launch a crackdown on the excess of the big tech companies. Allen & Overy's much-vaunted commitment to innovation means that it finds itself lumped into this category and becomes the first ever corporate law firm to be nationalised.
Terrified of meeting the same fate, Clifford Chance conducts a ceremonial 'draining of the swamp', where its swimming pool is emptied of coffee and filled once more with water. It is renamed the 'John McDonnell Baths of the People' and opened up to all of the country's one million law students to use free of charge.
Similarly fearful, Linklaters quietly retires its self-driving AI-propelled hoverboard stand-up desk project citing "safety concerns" after the Raab incident. The firm is picketed daily by an angry mob of Tories furious about its role in Theresa May's demise.
Only at Freshfields is there anything resembling calm, albeit largely thanks to the success of the marijuana pilot, since rolled out firm-wide in London and Manchester after Labour's legalisation of drugs. A spin-off series of 'Freshfields n' Chill' cafes are planned for the New Year — the first of a wave of diversification strategies that are set to sweep UK corporate law in 2019.