Ahead of the Legal Cheek Awards on Wednesday evening, we reveal the final category shortlist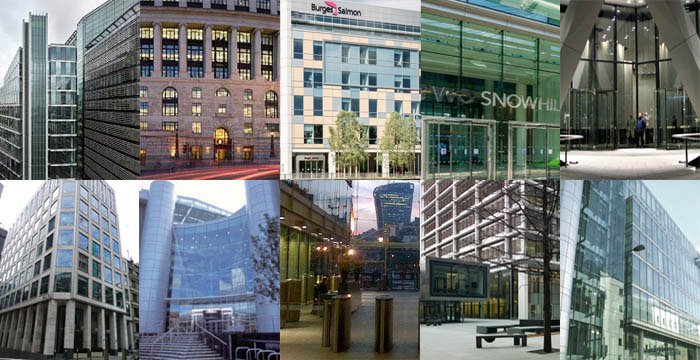 There's an abundance of factors that make or break a trainee or junior lawyer's experience at a City firm. Are the partners and the trainees nice? Will the firm provide laptops? How many hours are worked each day? What are the perks like? And is there an on-site canteen?
Legal Cheek has picked the brains of more than 2,000 corporate law insiders to find out what they really think about the country's top 60 firms, as part of our latest Trainee and Junior Lawyer Survey. Respondents were quizzed on ten categories: training, quality of work, peer support, partner approachability, work/life balance, tech, perks, office, canteen and social life. Now, Legal Cheek has combined the scores of all ten categories and the ten best-performing firms in alphabetical order are…
Bird & Bird
Bird & Bird, still beaming from its move to the "awesome" 12 New Fetter, has scored extremely well in this year's survey. The outfit's young lawyers and trainees gush about everything from its peer support to its tech, Bird & Bird scoring A*s in five survey categories.
Its penchant for tech certainly comes as no surprise. Bird & Bird is a technology-focused firm, it being one of the first to claim its own website in the very early days of the internet. The firm "invests in [tech] and it shows," says one lawyer.
The firm's savviness has translated into techy work, recent highlights in this respect including advising the European Commission and the UK government on changes to data protection regulations and acting for Nokia on its patent dispute with Apple. These high-level instructions are felt even at the more junior end of the profession, survey respondents scoring Bird & Bird an A for its quality of work.
Interesting work aside, the firm has also been praised for its strong internal culture, whereby hierarchies are minimal and trainee cohorts "are more a group of friends than colleagues". The Bird & Bird lot, who are paid £62,000 on qualification, also appreciate their "wonderful view" of the City and the firm's "excellent" canteen — quite a mix of praise.
Read Bird & Bird's full firm profile, including The Legal Cheek View and Insider Scorecard.
Bristows
Aspiring lawyers mulling a training contract at Bristows must surely take solace in the firm's whopping six A*s in this year's Legal Cheek survey.
The firm is pretty much a checklist of trainee needs. Top clients including Google and the BBC? Check. "Awesome" three-month secondments to the former? Check. Open door policies among partners and supervisors that are "helpful and understanding"? Check again.
The London firm, which pays £63,000 to its NQs, also scored highly for its peer supportiveness. "The small trainee community is very close-knit," one gushes, reflecting on the single-office firm's ten-strong annual offering, while another said: "We all work really well as a team." But don't assume a small cohort means a measly social life: firm-wide drinks, departmental Christmas celebrations, autumn parties, charity events and summer dinner dances are all on Bristow's training contract menu.
Corporate law utopia maybe, but trainees and junior lawyers at the firm don't spend too much time there. According to our data, Bristows' lawyers arrive in the office on average at 8:50am and leave at 6:53pm, not bad considering some firms report leave times of gone 7pm, 8pm, 9pm and even 10pm. Bristows' work/life balance is rated an A*, one rookie describing it as "amazing" (like pretty much everything else at the firm).
Read Bristows' full firm profile, including The Legal Cheek View and Insider Scorecard.
Burges Salmon
Standing proud by the riverside in a city recently voted Europe's coolest, Burges Salmon's Bristol office feels a world away from the Smoke. And yet, there's plenty Burges Salmon and its London counterparts have in common.
For starters, it's the high-level work, described by one rookie as "interesting". They added:
"[I]f boring work is given it is always done so with an apology and an explanation as to why it is important."
There's also as the "excellent" secondments to Burges Salmon's international alliance firms in Copenhagen, Brussels and Paris. Eating top-quality food is part and parcel of the Burges Salmon experience, the canteen apparently better than many restaurants and the firm's events sprinkled with "good food and lots of alcohol".
But what sets Burges Salmon apart from the rest, independent of its shun of London-centricity, is its highly-regarded trainee rotation model. Aspiring lawyers explore six seats, rather than four, before qualification, the training itself described as "top-notch and well-structured", "great" and of a "very high standard" by a trio of Burges Salmoners. London lawyers reading this on the delayed service to Bedford will be pained to know Burges Salmon boasts one of the lowest commute times of any major UK outfit, a higher proportion of its junior lawyers walking to work than any other.
Read Burges Salmon's full firm profile, including The Legal Cheek View and Insider Scorecard.
Gowling WLG
Scoring a job at Gowling WLG means being able to show off to your family and friends that you work at one of the most impressive law firm offices in the country. Both the firm's Snow Hill Birmingham headquarters and Thamesside London gaff were, understandably, rated an A* in our survey, described by the lawyers that work inside their slick glass walls as "beautiful", "nice" and "clean".
Once you're down gawping at the firm's exterior, head on in to its "unbeatable" canteen, which serves a "really, really good" selection of main meals, drinks and nibbles. "You could eat a main meal here every day and have toast for dinner," says one rookie, while another punted for: "You can't get much better."
Okay, we know what you're thinking: there's more to legal practice than swish offices and good food. But don't worry, Gowling WLG has you covered on the work front too. Trainees have advised on "complex and interesting areas of law", have received "good" training and enjoy the "collegiate" atmosphere between trainee cohorts. Another jewel in the Gowling crown is its tech-savviness, which is something the firm "invests heavily in", while the firm's legal apprenticeship programme is one of the most well developed in the country.
Read Gowling WLG's full firm profile, including The Legal Cheek View and Insider Scorecard.
Kirkland & Ellis
Have you ever seen a firm more 'go hard or go home' than Kirkland & Ellis?
Everything is BIG in this 13-office firm. Its London lot are housed in one of the best offices in the City, the "amazing" Gherkin, in "huge" offices from which "you can see for miles". "I defy you to find anywhere better to be sat at midnight working on a Tuesday," one trainee challenges.
The corporate perks are just as grand as its flash office. A "baller" NQ salary of £140,000 is enough to make most City lawyers weep, while access to Searcy's, the bar at the top of the Gherkin, is well-received too.
For all this flashiness there's work to be done, and plenty of it. Kirkland & Ellis lawyers' work/life balance is far from enviable but they can take solace in the fact the work they're handed is "high quality" and comes with "high levels of responsibility". Thankfully, trainee intakes are "really close" which helps when the responsibility gets a bit too overwhelming. Partners are great too: survey respondents say the firm is "great at letting you sit in on calls with senior people at the client", and that "it is encouraged to knock on the doors of more senior lawyers". Is there a better way to learn?
Read Kirkland & Ellis' full firm profile, including The Legal Cheek View and Insider Scorecard.
Mills & Reeve
Mills & Reeves is not your typical City firm. Its donnish image, born out of its strong Cambridge presence and expertise in the likes of tech and life sciences, attracts students seeking an alternative to global megafirm life. But maybe it's global megafirms that should take note: Mills & Reeve scored A*s and As across the board in our survey.
These included thumbs up in the training category, in which one respondent said:
"Not sure I am quite ready to negotiate Brexit (who is?) but the training at M&R has been excellent. Even the partners will invest their time in the trainees to ensure you are given proper guidance."
Cooperative and supportive peers help the days go quicker, but there's not that much of the day to fill. The City-style work is described as "varied", "interesting" and "high profile" and yet, as another trainee says, it comes without the City-style hours. Work/life balance is "a dream", says one rookie, who revels in the lack of facetime culture and firm's respect for personal plans and commitments. Result.
Other mini wins at Mills & Reeves that Legal Cheek has garnered from our survey include: regular bonuses, great salads, good views from the Cambridge office, free ice cream and little sense of hierarchy. Where can we sign up?
Read Mills & Reeve's full firm profile, including The Legal Cheek View and Insider Scorecard.
Osborne Clarke
Twenty bright-eyed aspiring lawyers a year grace Osborne Clarke's corporate law floors for a "fantastic" training contract experience; one held together by the firm's "challenging [and] stimulating work". On this, one survey respondent comments:
"The firm is excellent at encouraging us to move outside of our comfort zones and try new things, whilst being very supportive and nurturing. Once team members are confident in your ability, they are happy for you to contact clients."
When you're not working at the cutting edge of new industries like battery storage, you can chill out with your "collaborative and supportive" trainee cohort, perhaps at one of the firm's "spontaneous social events" or its more stalwart offerings, including summer and Christmas parties.
If your fellow trainees are busy, "very approachable" and "friendly" superiors are on hand to help both in a work and social context. Or, why not just pop to the zoo? The free Bristol Zoo pass is raved about by the firm's trainees, as are the firm's Friday drinks trolley and sporting events.
Excellent work, friendly trainees and superiors, great perks — but sometimes all you want is your bed. Thankfully, there's "no heavy hours culture" at Osborne Clarke, with one trainee marvelling that "even in a busy seat the work life balance at OC is pretty good".
Read Osborne Clarke's full firm profile, including The Legal Cheek View and Insider Scorecard.
RPC
Life as a corporate lawyer is rather mysterious. In between all the long lunches, what do you actually do all day?
Thankfully, City outfit RPC is as brutally honest as it is well respected among its trainees and junior lawyers. The firm's trainee-run Twitter account allows aspiring solicitors to peek into the four-office outfit — and expect to find great things when you get there: it scored A*s and As in all of Legal Cheek's survey categories.
To examine some of the key categories, words bandied about include "supportive", "excellent" and "varied" in the context of training, while "interesting and high value cases" get a nod too. (As do its perks, which include champagne and John Lewis vouchers for top-performers, as well as firm laptops to help with flexible working.)
Aside from its honesty, one of RPC's big sells is its office. The open plan layout "really helps" cement the friendly and approachable atmosphere, one insider reporting: "The open plan office and mixed pods means you sit with anyone from paralegals to partners (including the managing partner) and questions are positively encouraged." But the chilled-out layout isn't the only thing going for RPC's office; the facilities are described as "great" and the location as "lovely", too.
Read RPC's full firm profile, including The Legal Cheek View and Insider Scorecard.
Taylor Wessing
If Taylor Wessing is famed for anything, apart from absolutely bossing Legal Cheek's survey, it's its total coolness.
This is clearly exemplified by its high-profile sponsorship of the National Portrait Gallery Photographic Prize and by the firm's top-rated technology practice and general tech-savviness. Taylor Wessing's high-profile clients like Spotify and Google also help feed its 'we know what we're talking about when it comes to tech' image. The firm has even been running a small workspace in start-up hub Shoreditch, East London, while its Cambridge office has allowed the firm to develop close ties with top academics specialising in legal tech research. This came through in our survey: the firm scored an A* for tech, one respondent stating that "tech is a big driver for the company moving forward".
Aside from its appreciation of all things technology, Taylor Wessing scored particularly well for its office ("great terrace and café," raved one lawyer) and its social life ("there are great trainee events organised by the trainee solicitor council"). On the work and training front, aspiring solicitors can expect a "great" introduction to the big wide world of corporate law alongside other "brilliant" trainees. The respondents even raved about the City outfit's supervisors, the words "great" and "nice" both getting a name check.
Read Taylor Wessing's full firm profile, including The Legal Cheek View and Insider Scorecard.
Trowers & Hamlins
Supervisors that are "a source of constant support" coupled with "extremely helpful" colleagues means Trowers & Hamlins is a friendly place to be.
Aspiring lawyers considering applying for a TC there will be pleased to know its training is described as "excellent" and "thorough", one survey respondent praising the firm for its "large amount of seminars, tutorial training sessions [and] one-on-one training". You can expect good quality work during your training contract too: "The work given to the trainees is second to none," one satisfied lawyer tells us, while another says:
"We are given a great deal of genuine responsibility, all manage our own caseloads and are given a variety of work with good client contact."
While stimulating work and friendly colleagues makes the Trowers & Hamlins experience, it's good to know its solicitors can enjoy the finer things in life too. Perks are "really good", and include: free breakfast before 8:30am, discounts on hotels, gym memberships and the Eurostar, Haribos, and private healthcare.
But isn't the finest thing of all being able to leave the office at a reasonable time? Indeed, work/life balance at the firm is described as "generally very good", trainees praising the firm's lack of facetime culture.
Read Trowers & Hamlin's full firm profile, including The Legal Cheek View and Insider Scorecard.
The winner of The Trainee and Junior Lawyer Firm of the Year 2018 will be announced at the Legal Cheek Awards on Wednesday evening, alongside 16 other categories.