But campaign group JENGbA says law is still in a 'dangerous place'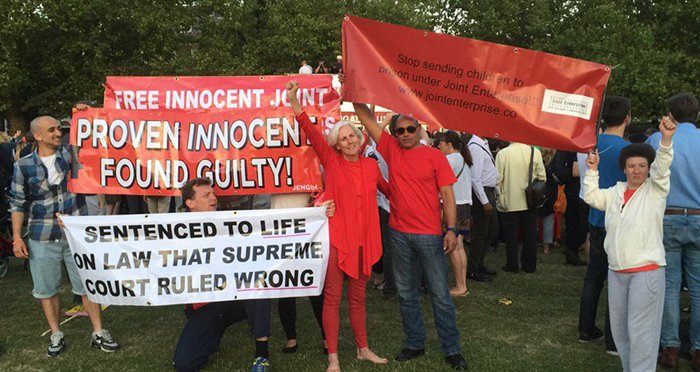 A man who studied for a law degree while behind bars for murder has had his conviction quashed after the Supreme Court's hugely important R v Jogee ruling on joint enterprise.
The joint enterprise doctrine states participants in a joint criminal enterprise will be criminally liable for the harm that results from that enterprise. The law in this area was overhauled by the Supreme Court in 2016, when it ruled the mental element of the doctrine was too heavily weighted against defendants. Ameen Jogee, who was serving life in prison for the murder of a policeman, was at retrial found not guilty of murder but guilty of manslaughter, and sentenced to 12 years.
The Supreme Court's Jogee ruling hasn't just benefited its namesake, nor just changed students' criminal law syllabuses — it's now led to the release of a man, John Crilly, from prison.
Crilly was given a life sentence following the death of a 71-year-old man, who was punched in the face by Crilly's co-defendant, David Flynn, during a robbery. Crilly spent many of his years in jail studying for a law degree; he even wrote to the judge, Lord Leveson, to ask for the conviction to be overturned.
Now, 13 years into his sentence for murder, that's what has happened. In place of a murder conviction, Crilly pleaded guilty to manslaughter. This was on the advice of his lawyers: solicitor Simon Natas and Doughty Street Chambers' Timothy Moloney QC.
Crilly was sentenced to 18 years for this lesser charge. But because he had served half of this time already, plus four more years for the break-in, he has been released.
Crilly was supported throughout the case by Joint Enterprise: Not Guilty by Association (JENGbA), which campaigns for joint enterprise law to be changed. While the Jogee ruling and Crilly's subsequent release seems to be a victory for JENGbA, Gina Morrison, the group's campaign coordinator, stresses joint enterprise law is still far from perfect. She tells Legal Cheek:
"Joint enterprise is a very useful tool for the police and prosecutors when they don't have evidence about who did what and who was to blame."
Morrison believes the recent spike in knife crime and gang violence in the capital has led, and will lead, to the authorities relying more heavily on the joint enterprise doctrine. "It's just a tactic," she says, "and it's not about getting justice. It's about getting convictions — and this is a very dangerous place for the law to be."
Also on JENGbA's agenda is the case of Laura Mitchell, who was involved in a group fight outside a Bradford pub in January 2007.
She claims, however, that things had died down and that she was simply looking for her high-heels which she'd lost during the brawl when Andrew Ayres was murdered by two of her co-defendants. She is currently behind bars for Ayres' murder.
The Criminal Cases Review Commission has now referred Mitchell's case to the Court of Appeal. She will be represented by the same legal team as Crilly was.