He literally applauded Eniola Aluko's football knowledge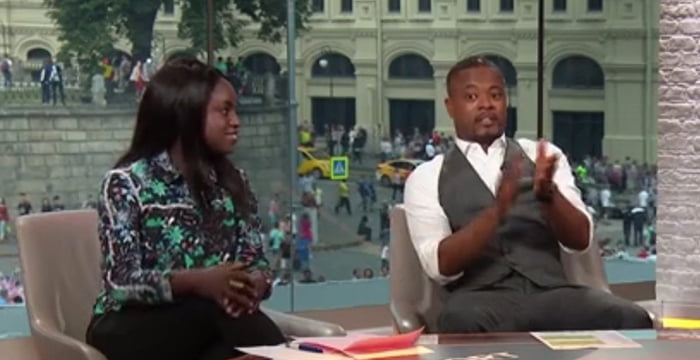 French footballer Patrice Evra has been accused of "patronising" Slaughter and May lawyer and England international Eniola Aluko during a live World Cup broadcast.
Evra, a 37-year-old West Ham United left-back, clapped Aluko's analysis ahead of Serbia's World Cup opener against Costa Rica. Aluko, who is a professional footballer as well as an associate consultant in Slaughters' corporate team, appeared on ITV alongside fellow pundits Evra and ex-Celtic marksman Henrik Larsson yesterday.
Following Aluko's in-depth analysis of Costa Rica's attacking prowess, Evra sounded surprised and complimented her excellent evaluation. He then began awkwardly clapping Aluko, triggering a social media reaction:
LOOOOOOOOL PATRICE EVRA HAS NEVER EVEN CONTEMPLATED TALKING ABOUT FOOTBALL TO A GIRL ?? #WorldCup pic.twitter.com/XBqqrtaP2x

— Harry Hesketh (@HashtagHarry__) June 17, 2018
Many Twitter users described Evra's behaviour as "patronising".
Patrice Evra showing surprise and actually *clapping* Eni Aluko's analysis… awful, patronising

— Omar Chaudhuri (@OmarChaudhuri) June 17, 2018
I'm cringing watching Patrice Evra shocked by, and physically applauding, Eni Aluko's punditry. Nice and patronising. #WorldCup #ITV

— Kerrie Wilkinson (@KerrieWilkinson) June 17, 2018
#itv #itvworldcup Please tell Patrice Evra to sit up and stop being so bloody patronising to Eni. Of course she knows about football you idiot

— The Soft Furnisher (@softfurnish) June 17, 2018
Following more footballing insight from Aluko, ITV presenter Jacqui Oatley asked Evra: "Are you going to sit here applauding Eni's punditry all day?" The ex-Manchester United player responded:
"This is just amazing, I think we should leave Henrik, because she knows about more football than us! I'm really impressed you know."
While continuing to berate Evra, viewers were also keen to point out Aluko's formidable sporting and legal credentials:
@EniAlu has 102 England caps & 33 goals, is a qualified lawyer and has a first class degree. After offering way more informed commentary on the match than any fellow pundits managed, Patrice Evra applauds her? So patronising & sexist

— Annabel Ault (@annabelault) June 17, 2018
Partrice evra shocked to find out there that eni aluko a woman with about 150 caps and a lawyer knows about football. What a tit #Itvworldcup #Worldcup

— Captain jamtart (@captainjamtart) June 17, 2018
Juventus striker Aluko studied law at Brunel University London before completing the accelerated Legal Practice Course (LPC) at the College of Law (now The University of Law) in Moorgate, her LinkedIn shows. Law Society records say the 31-year-old qualified as a solicitor in 2015.