It will hang alongside paintings of Lord Bingham and Lord Thomas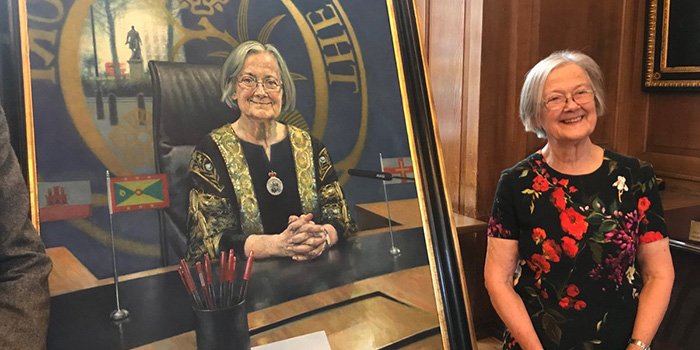 A new portrait of Supreme Court president Lady Hale has been unveiled at Gray's Inn — and it's causing a stir on social media.
The painting, produced by critically-acclaimed artist David Cobley, depicts Hale in judicial robes and sitting at one of the Supreme Court's benches. Unveiled by Hale yesterday evening, the special artwork was commissioned by Gray's Inn — where she was called to the bar in 1969 — and will hang in the Inn's historic hall, alongside portraits of renowned law lord, Lord Bingham, and former Lord Chief Justice, Lord Thomas.
There are, however, a few unusual aspects to Hale's new portrait.
According to legal affairs journalist Joshua Rozenberg, who was in attendance at the unveiling, Hale's painting "will be the only portrait in the hall to show the sitter smiling".
Lady Hale's new portrait, commissioned by Gray's Inn. Hers will be the only portrait in the hall to show the sitter smiling. pic.twitter.com/74Kb7LkOQj

— Joshua Rozenberg (@JoshuaRozenberg) July 25, 2018
Other social media users found it somewhat unusual that the painting portrayed Hale sat in front of a bunch of red pens.
Strange to give a pot of red biros such prominence…

— Tom Orpin-Massey (@tomassey88) July 25, 2018
The hands are especially fine but the collection of red pens give me the shivers.

— John Shiel (@JohannShiel) July 25, 2018
What's with all the red pens?!

— Andrew (@andybarc) July 25, 2018
Taking to Twitter, Cobley explained his thinking behind the biros' inclusion. He said:
'In the courtroom red biros are always somewhere on view. Whilst at odds with the grandeur of the place they show the common touch, as well as provide another little splash of colour."
Yorkshire-born Hale read law at Girton College, Cambridge, before becoming an assistant lecturer at the University of Manchester. Working part-time as a barrister, Hale spent almost 20 years in academia. The 73-year-old, known in law student circles as the 'Beyoncé of the legal profession', was elevated to the role of Supreme Court president last summer. She is the only woman to hold the position.