ITV2's hit show provides a sweet escape from the stresses and strains of law school, says aspiring lawyer Christianah Babajide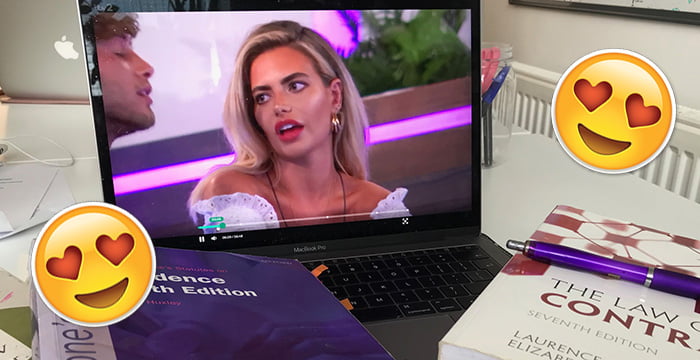 If you're a law student, you watch Love Island because you have nothing better to do. If you're a graduate — of any age — you watch it to take yourself back to those carefree days of lounging around at lunchtime and falling for classmates. If you currently live under a rock and can't seem to grasp how the show's previous series have drawn students, graduates and even lawyers to participate on screen, this article is for you. I've fleshed out five reasons why I think law students are so obsessed with the ITV2 series.
1. It's every law student's dream life
Let's face it, the life of a Love Island star is one that most stressed-out law students dream of — it's no wonder they reportedly received double the applications than Cambridge and Oxford combined! Who wouldn't love being wined and dined by fellow islanders, lazing around the villa pool, topping up your tan? It's a far cry from contract-law induced sobs and eight-hour library sessions.
2. Sweet escape
With all the palavers of Brexit and Trump's theatrics, law students are left drained (physically and mentally) by the state of our deteriorating economy. Love Island offers a sweet escape — not just from the pool of training contract rejections but from the exhausting pressure and harsh reality of the law. Besides, there's just something about tuning into all that petty drama after a long day of learning TOLATA that is oddly relaxing. Watching the painfully cringe-worthy scenes and absurd drama unravelling on screen really makes you feel like you have your life together.
3. They give us something to talk about
There's nothing law students love talking about more than how other people should live their lives — since we have zero control over our own (graduate recruiters are the gatekeepers to our lawyer dreams). Law students can often be found discussing the latest drama-filled episode during a lecture or bonding at a networking event over their hatred of a particular contestant. It beats discussing land law!
4. Requires zero brain power
After a long day of back-to-back lectures, you can come home, plop yourself on the couch, flip on the TV and unwind to episodes of Love Island. Many law students love the reality show due to the minuscule amount of thinking they have to do whilst watching. Unlike most aspects of law, there's no need to focus all your attention on what is happening on the show — there isn't really a plotline.
The good thing is you can tune in right in the middle of a heated argument or meltdown, which typically occurs every 10 minutes. Love Island isn't like the US drama Suits where if you look down to open a Snapchat for five seconds you might as well rewind the whole episode.
5. FOMO
Fear of missing out: the sometimes-all-consuming feeling you're missing out on something perpetuated by looking at other people's social media posts. It stems from an addiction to connectivity and the fear that other people are experiencing great things whilst you are not; in this case, Love Island. No one is afraid of missing out more than law students. We like to be in the know and involved, especially if more than half of the British public is watching it.
Ultimately, Love Island is a great break from your own reality. When you feel like things aren't going too well for you, reality TV reminds you that there's always someone with drama even more jaw-dropping than your own. So, next time you throw a fit over receiving a training contract-rejection email or you haven't done too well on your law exam, evaluate yourself. Because, clearly, there are more important things in life. Besides if law doesn't work out, there's always Love Island 2019…
Christianah Babajide is a student at City Law School.