Solicitor turned diversity champion Yasmin Sheikh shares her story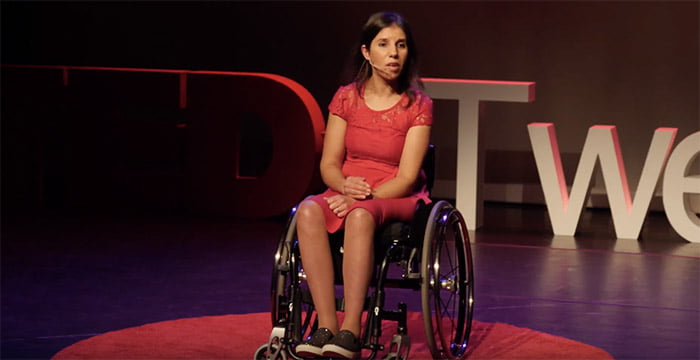 Yasmin Sheikh woke up one day paralysed from the waist down — aged just 29.
Sheikh was a personal injury lawyer at international firm, Clyde & Co; she was fit and healthy, sociable, a non-smoker and a vegetarian, when a spinal stroke led, without warning, to the loss of the use of both her legs.
In the latest episode of The Hearing podcast, Sheikh speaks candidly to Child & Child partner Kevin Poulter about how her life has changed since then and how she wants to challenge the daily "microaggressions" against her and others like her.
A year in rehabilitation followed Sheikh's injury and she soon found herself looking at the world differently. "I was surrounded by charities and other disabled people with these incredible stories. That's what sparked my interest in diversity", she tells Poulter.
Returning to work, Sheikh explains how she felt conscious of the way her colleagues perceived her : "I didn't know who I was and felt as if I was a burden… by that point I ticked every box: I was a mixed-race woman and a wheelchair user."
After 12 years working successfully in law, Sheikh decided to give it up to found Diverse Matters, a training consultancy firm specialising in diversity and disability.
Living with a disability day-to-day, Sheikh has dealt with her fair share of prejudicial incidents, or what she has termed "microaggressions". She explains:
"They range from fairly innocuous things like someone asking whether I'm okay if I happen to look down at my phone for a while when out and about in my wheelchair to some pretty horrible things. To them, it's just one incident, but for me it's hundreds on a daily basis."
It is incidents like this that Sheikh is working hard to combat. Diverse Matters partners with a number of law firms — including Mayer Brown and Eversheds Sutherland — to encourage staff to embrace diversity and disability through training workshops, tailored seminars and interactive events.
"Disability isn't just sticks and wheelchairs", says Sheikh, "it's all forms we can't see such as cancer, diabetes or mental health conditions". Part of her role is to make sure law firms are attuned to this and understand how they can get the best out of their lawyers and support staff who may have less visible conditions.
Alongside her consultancy work, Sheikh has taken up a whole host of other projects. She is the vice-chair of the Law Society's Lawyers with Disabilities Division and has taken to the screen and stage as an actress and stand-up comedian.
You can hear more about Sheikh's life and campaign to change attitudes to disability in the workplace in The Hearing podcast.
Listen to the podcast above or download it for free on iTunes, SoundCloud and Spotify