The Hearing Podcast: How not to retire, with Sir Rupert Jackson
The former Court of Appeal judge and controversial costs reformer is still loving life in the law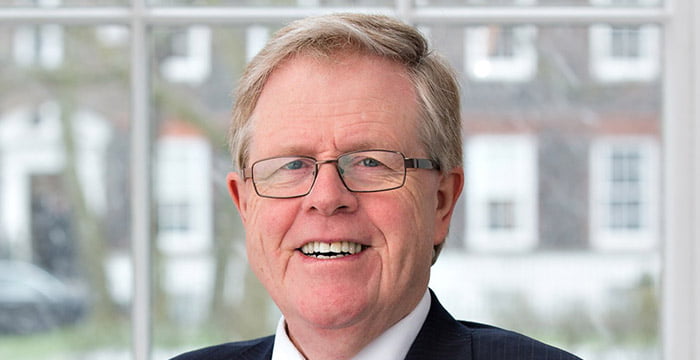 "The retirement age of 70 is too young", according to Sir Rupert Jackson, and the former Court of Appeal judge has found creative ways around it. He's off to sunny Astana as one of the first justices of Kazakhstan's new commercial court, as well as doing arbitrations back at 4 New Square, where he practised for 25 years before becoming a High Court judge in 1999.
The jet-setting lifestyle is a far cry from Jackson's start in chambers, he tells Kevin Poulter in the latest edition of The Hearing podcast. A first six spent in personal injury led to an invitation to join another set doing, basically, anything. Jackson says:
"I didn't have any particular ambition as to a specific area of law to practice in. I was very happy to do crime, civil, family or whatever work came my way… in the 1970s, a particular specialisation never occurred to me. I just wanted to be a barrister."
Nowadays, baby barristers tend to specialise earlier, Jackson thinks. But developing advocates can probably relate to his early travails in front of the court. Asked how his early time on his feet went down with judges, he tells Poulter: "It went down variably. There was one magistrate in London who said that I had delivered the most absurd mitigation he had ever heard, which was not encouraging."
And, then as now, life at the bar is all about putting in the hours. The former judge advises junior lawyers to "roll up your sleeves, work all evening, work all weekend — do whatever the case requires" if they want to make it.
Saturdays in the office aside, Jackson dates his own big break to the first edition of Jackson & Powell on Professional Liability, now the standard text on the subject — "it brought in a fair amount of new work".
Jackson is also famous for his epic review of civil litigation costs, which took him the whole of 2009 to complete, working on it full time. He continued to take an interest in the progress of the controversial changes even after returning to the bench, helping out in a very judicial way: "if I thought things were going wrong, I'd give a lecture pointing out where things weren't going quite as I'd hoped".
He's even dashed off a "little book" to explain the point of the reforms to practitioners. Jackson, who could be scathing as a judge, is at his most animated on the subject of legal aid. He says:
"I greatly regret the cutbacks in legal aid which have led to the increase of litigants in person. I have always vigorously argued for the maintenance of legal aid at the original levels. I think the cutbacks in legal aid were a big mistake. Litigants in person take up more court time. At the end of the day savings in legal aid are more than offset by the additional cuts to the system."
He takes particular exception to the widespread notion that the cuts were anything to do with his review — in fact, Jackson says, they were "directly contrary to my recommendations". One "very senior QC" is singled out for spreading this myth. Legal Cheek couldn't work out the identity of the unnamed offender, despite the several hints dropped, but perhaps other listeners can…
Listen to the podcast above or download it for free on iTunes, SoundCloud and Spotify