Legal aid is a 'pillar of the welfare state', says shadow justice minister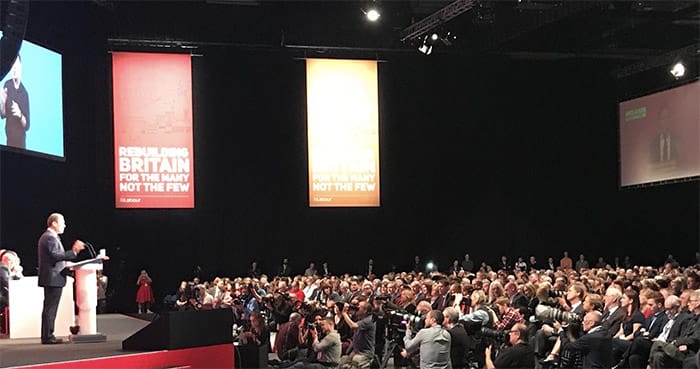 It cannot be said that justice has been at the forefront of the Labour Party Conference which finished today. With the party's leadership talking mostly about antisemitism, it was left to the fringe events to talk about such depressing subjects as legal aid, the criminal bar, access to justice and court closures.
The plan appears to be to try and reverse the changes since 2010. At one fringe event organised by the Society of Labour Lawyers, Richard Burgon MP, shadow justice minister, on a panel with Nick Thomas-Symonds, shadow solicitor-general, set out proposals for Labour to bring back legal aid as "a pillar of the welfare state and properly support law centres as engines of empowerment for working-class communities".
Burgon commented that people have been "priced out of our justice system" by the collapse of funding since austerity measures in 2010 and suggested that we should reintroduce legal aid for "initial advice".
Some of these plans had been laid out in an interview with Huffington Post at the weekend where Burgon said Labour would inject investment into law centres, providing "a serious boost" for them so that they become "a key training ground" for the next generation of lawyers "from their communities representing their communities".
Baroness Chakrabati, the shadow attorney general, has also been doing her bit and discussed the importance of face-to-face interaction in supporting people through a hearing, in a session on court closures and the digitisation of courts. As BuzzFeed reporter Emily Dugan tweeted:
Shami Chakrabarti, shadow attorney general, on digitisation if courts "I have never met someone going through a life crisis who didn't need someone to sit across a table and show a bit of empathy as well as judgement and expertise" #Lab18 pic.twitter.com/2v5FCFg6b5

— Emily Dugan (@emilydugan) September 25, 2018
But then Chakrabati seemed to lose the support of lawyers (and gaining some cutting reposts) in just one sentence arguing that any strikes or protests they organise should not be on their own account:
Any further cuts to legal aid and there literally may be lawyers on the streets…

— Andrew Jeans (@andrew_jeans) September 25, 2018
Statistics on law centres, legal aid and court closures make for grim reading. Legal aid expenditure has fallen from over £2.5 billion in 2005-6 to £1.5 billion in 2017-18. Law centres have reduced in number by 63 to 43 in the same period, and not-for-profit legal advice centres from 3,226 to 1,462.
Perhaps the most staggering statistic of all is that the Law Society has counted 258 court closures from 2010 to 2017.
The government is currently reviewing the impact of the Legal Aid, Sentencing and Punishment of Offenders Act 2012 which brought in many of the changes which are seen as being so detrimental. You can read the Law Society's response to the implementation review.