It appears to be have been posted on a robing room wall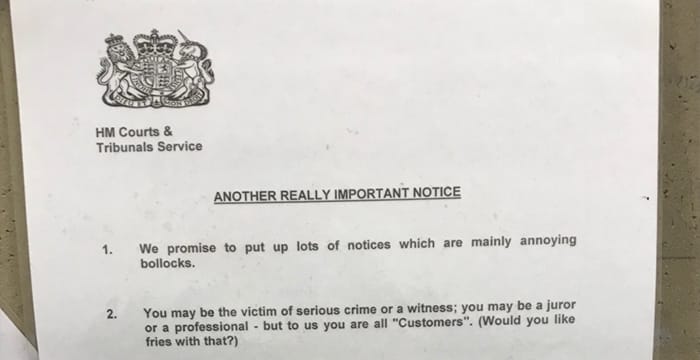 A lawyer has taken aim at Her Majesty's Courts and Tribunals Service (HMCTS), posting a tongue-in-cheek notice criticising, among other things, the lack of working facilities.
The "really important" message opens by poking fun at HMCTS for publishing "lots of notices which are mainly annoying bollocks", before taking aim at the way the government agency refers to court users as "customers", as if they were ordering fries from a fast-food joint.
The fake note — which surfaced on Twitter yesterday but has since been deleted — appears to have been posted on a robing room message board. The identity of the court remains unknown.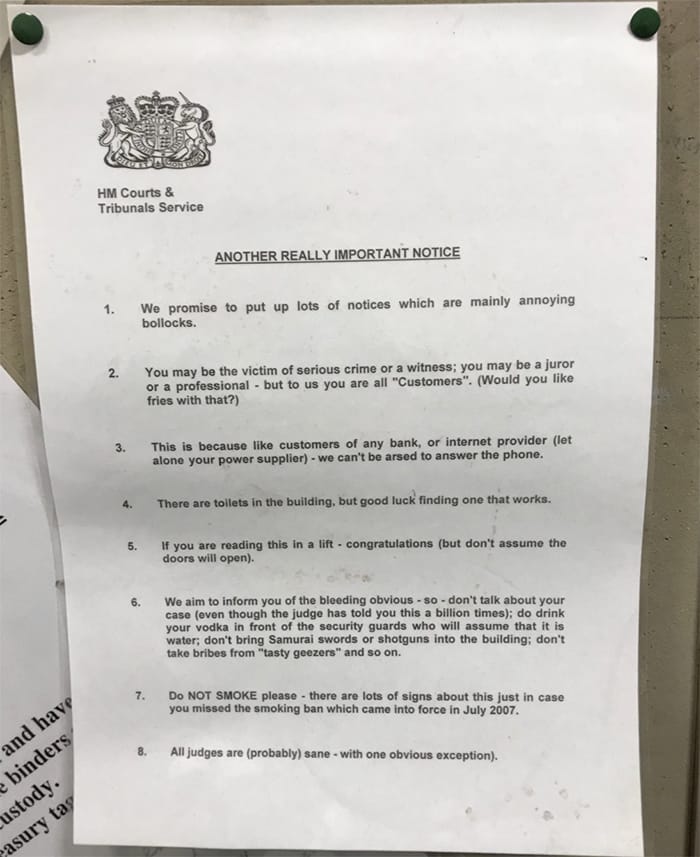 Continuing, the anonymous prankster criticises an apparent lack of working toilet facilities and lift access in some courts. The notice continues:
"We aim to inform you of the bleeding obvious — so — don't talk about your case (even though the judge has told you this a billion times); do not drink your vodka in front of the security guards who will assume that it is water; don't bring Samurai swords or shotguns into the building; don't take bribes from 'tasty geezers' and so on."
The message concludes with the cheeky lawyer reminding court users not to smoke, "just in case you missed the smoking ban which came into force in July 2007", and stressing that all the judges "are (probably) sane — with one obvious exception". HMCTS has been approached for comment.
This isn't the first time a lawyer has gone public with their court-related grievances.
Earlier this month, Guy Bowden, a criminal barrister at London's Red Lion Chambers, took to Twitter to reveal a fellow lawyer had used a driving licence to eat his lunch after court security allegedly confiscated his fork. Meanwhile, QEB Hollis Whiteman barrister Adam King reported that a colleague had to conduct a hearing in bare feet after she had her shoes confiscated by guards for being "too spiky".