Successful spaces will be designed to offer 'lifestyle' not just a place to work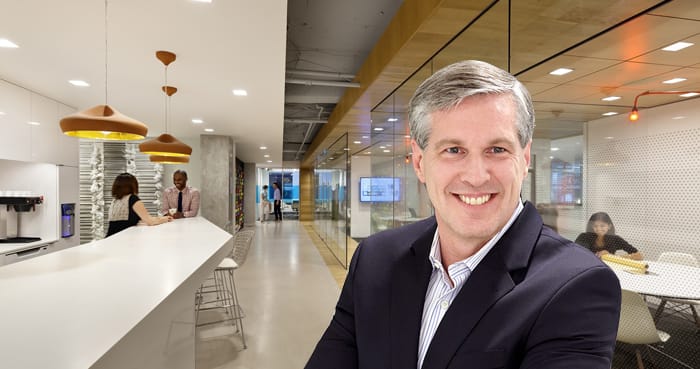 The aspirations and values of the next generation of lawyers is an important disruptor for law firms and needs to be considered in any "officing" strategy, according to a top architect.
Steven Martin (pictured), who has designed offices spaces for the likes of Dentons and DLA Piper, was speaking in a session today at the International Bar Association (IBA) annual conference being held in Rome this week.
Martin, an architect at San Francisco-based design outfit, Gensler, explained that office space strategies need to take on board a number of disruptions in the legal market. He said that this is about not only escalating property costs (London has the second highest cost at £151 per metre, according to Martin) and increasing technological advances, but also new generational lifestyles and values and what he calls the "co-working phenomenon", epitomised by shared spaces such as We Work. He told the audience:
"What we need to build in is that millennials are looking for mentorship, engagement with colleagues, a quite place to do focused work, and access to latest technologies."
Law firms should be thinking about a variety of work settings, argues Martin, such as spaces where people can "work alone together", "collaboration spaces", cafe-style spaces, taking inspiration from hotels with "concierges".
Beyond this, Martin predicts that work spaces are going to be more about promoting a type of lifestyle as much as about being simply places to work: reflecting on the phenomenal success of the We Work brand, all large, black-framed windows, groovy lighting, and proper coffee, Martin says:
"The most successful workplaces will be designed to offer more than space, they will promote a lifestyle — that is what co-working spaces are doing."
He predicts more amenities such as free, healthy snacks and paradoxically, beer on tap, facilities such as US diner-style booths to hang out in, games rooms, golf simulation stations and mothers' rooms.
Law firms will also, of course, see the potential cost savings that can be made by thinking more about the changes in their workforce. For instance, Martin reveals that lawyers are at their desks only 60-70% of the time (though it probably feels like a lot more than that to most associates), which means hot-desking and less fixed spaces will be both useful and cost-effective.
Polly Botsford will be reporting all week from the International Bar Association's annual conference in Rome.