Tory conference: Attorney General steals limelight from Theresa May's speech
Top commercial barrister's warm-up act references his legal negotiating skills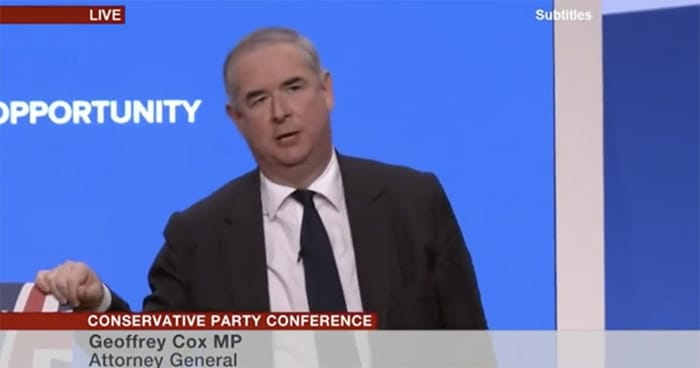 It was left to Geoffrey Cox QC, the current Attorney General, to give the biggest mention to law on the last day of the Conservative Party Conference today.
Cox, who is a hugely successful barrister acting in commercial and fraud cases but who has also defended a number of individuals in war crimes and defamation cases, took to the stage (video below) at the conference in preparation for Theresa May.
He spent a long time bigging-up May and how the Tory Party needs to stick together over Brexit. As part of that, he took the opportunity to reference his own negotiating skills as a commercial advocate in recommending the "compromise" approach to negotiations with the EU over Brexit. He told delegates:
"As a lawyer, I have negotiated many commercial agreements. It is in the nature of negotiation that, with apologies to the Rolling Stones: 'You Can't Always Get What You Want.'
Cox's speech has garnered considerable attention:
Theresa May will be delighted by Geoffrey Cox's extraordinary speech. Until she gets his bill

— Matt Chorley (@MattChorley) October 3, 2018
Much excitement at Tory Conference with the discovery that Attorney General Geoffrey Cox sounds like Tom Baker playing The Doct-OR.

— Robert Hutton (@RobDotHutton) October 3, 2018
Cox has come to the attention of Legal Cheek before now: in 2015, we reported on his bar earnings being at a whopping £800,000. Cox also shot to fame in the wake of the shake-up of MPs expenses, when he had been found to have claimed for 49p for a bottle of milk and £2 for tea bags.
But May's actual closing conference speech didn't mention 'justice' or 'legal aid' once. Indeed, the speech was pretty light on content generally but particularly light on content relating to access to justice, legal aid, court closures, mentioning instead housing initiatives and fuel price freezes.
May's speech, which was aimed at silencing opponents within her party, did, however, make a fleeting reference to our judges. Heralding those elements of Britain of which we should be proud, she included in that list the fact that "our courts are incorruptible."
This appears to be in stark contrast to the beliefs of many Tory voters and Daily Mail readers when the paper lambasted Supreme Court justices as "enemies of the people", as noted by one lawyer on Twitter:
"Our courts are incorruptible and our universities world-leading".

Except when we attack them for being "enemies of the people"https://t.co/jPN6tS6D0p#Brexit #ConservativeConference2018 #ToryConference

— Prashant (@lawprashant) October 3, 2018
May did, however, give a nod to lawtech and AI-justice with her proposal that rail commuters are to be given "auto-compensation" when their trains are late. It's an idea that could go far: auto-compensation for car accidents anyone? Just type in your injuries and the insurance company will sort the rest?
Other legal news from the conference was a fringe event held by Justice, the law reform and human rights pressure group, and the Society of Conservative Lawyers, where Lucy Frazer QC MP spoke about the growth in judicial review cases. Meanwhile, justice secretary David Gauke gave a speech to delegates earlier in the conference focusing mostly on prison-related issues.
Watch Geoffrey Cox QC's speech in full below: