The law has a habit of inhibiting entrepreneurship, says Lexoo founder and CEO Daniel Van Binsbergen, as he speaks to fellow legal entrepreneur David Burgess, the founder of Reviewed & Cleared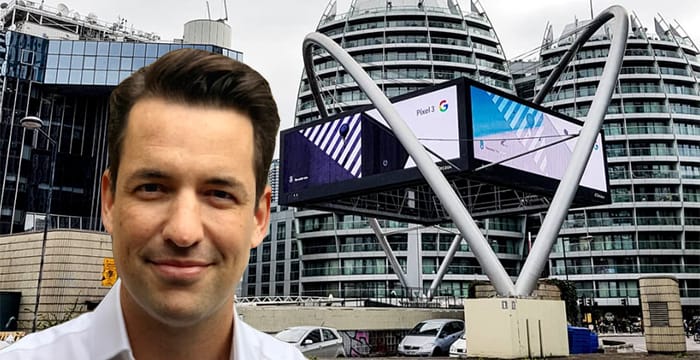 It's a familiar conundrum for young lawyers. You've bagged a job at a big City firm. You're well-paid and respected, and, not too far away in the future, there's the holy grail: partnership. Trouble is, you're not happy. You work long (very long) hours, but it's not just that. It's the disconnect between your hourly rate, and what seems fair for clients.
Lexoo's founder, Daniel van Binsbergen, is a lawyer who experienced the conundrum – and solved it. "I was working for a very good firm," he tells me, when we meet in his offices in Old Street, London, "but it was hard to balance the meaningful things in my life — like family, friends and hobbies — with my workload. And roughly 80% of my hourly rate didn't go to me. It went to the building, the partners and overheads. The more I thought about it, the more I wanted to do something different."
Deadline
Van Binsbergen gave himself an ultimatum. "It was a deadline by which I'd quit the firm," he says. "I had a few ideas and had managed to put some savings aside, and I knew that if I didn't force the issue I'd still be doing the same thing in another few years."
That was back in 2013. To fast forward to the present is to find Van Binsbergen working as the CEO of Lexoo, an innovative, tech-focused and fast-growing legal solutions business. "Lexoo helps businesses and in-house legal teams find the right external counsel," explains Van Binsbergen, who is dual-qualified in Dutch and English law. "The lawyers in our network often spent years at the largest firms but for lifestyle reasons have now started their own practice or joined a smaller firm. Clients get first-class legal ability at half the usual rates."
Remarkably, though, Lexoo was not a fully-fledged idea in Van Binsbergen's mind when he told his then employer, De Brauw Blackstone Westbroek, he wanted to leave. "I had a little book of ideas that I wanted to investigate, and knew that I needed time to research what would stick," he says. "Those ideas morphed into what Lexoo is today."
The process of leaving De Brauw was not as daunting as Van Binsbergen feared. "I was apprehensive about handing in my notice but they were incredibly supportive. I told them I wasn't leaving for a competitor but to set up my own business. I was very fortunate — they gave me work on a freelance basis while I looked into my ideas."
Essential reading
After plenty of research, and one or two ideas that didn't fly, Van Binsbergen hit upon Lexoo. He credits Eric Ries' book The Lean Start-Up as essential reading, and says conventional legal thinking isn't always helpful when it comes to setting up a business. "Lawyers are often naturally risk-averse," he says. "One of my lawyer friends warned me against the risks, saying 'You might get sued!' Basically, that's the lawyer brain in action. But it's not necessarily the way you can get a business off the ground, so ultimately I read a lot of business books. The Lean Start-Up is really helpful."
Then came investment. "I pitched to Forward Partners, one of the very few idea stage investors in London," says Van Binsbergen. It was a serendipitous choice, in more ways than one. "Without knowing it I fitted exactly what they were looking for. But not only did funding come from them, so did my co-founder, Chris O'Sullivan. Forward Partners' model is to provide access to developers, marketing people, designers and the like. Chris was a developer and we got on well from the start. When he mentioned that he was thinking of moving on, I said 'Hey, why don't you just join Lexoo and it'll be a lot more fun that way', and he did. That was about four years ago."
Have tech, will succeed
O'Sullivan is Lexoo's Chief Technology Officer — and Van Binsbergen makes no bones about how vital tech is not just to the business, but to the legal profession as a whole. "Technology is making work more flexible, and it's making services more efficient. It's providing more cost-effective solutions for both businesses and consumers. Why shouldn't the legal industry benefit too?"
This is Lexoo's USP. Set up in early 2014, it uses cutting edge tech to enable businesses to tender out legal work; Lexoo's pre-vetted array of lawyers are then on hand to quote for it. The client receives three to four quotes from the most suitable lawyers within one or two working days. Same day quotes can be provided if needs be.
There are some 400 firms on the Lexoo platform, and the business, which in October 2018 secured a further round of $4.4m financing from venture capital investor Earlybird, as well as Forward Partners and Zoopla's General Counsel, currently employs 14 people. Van Binsbergen was proud to see Lexoo scoop an FT Innovative Lawyers Award in 2017 — and sees nothing but growth ahead: "We're expecting to double the team this year. In five years? I will still be here, working as the CEO, but I think we'll be a truly global player by then — a top ten legal brand in the world, with a few hundred employees."
The smart money says that Van Binsbergen is well on course to realise his ambitions. But if you're reading this and wondering what it might take to follow in his footsteps — how to solve your own conundrum with the same panache — here's Van Binsbergen's final word:
"The law has a habit of inhibiting entrepreneurship. As lawyers we're trained to be very careful. Our job seems to be to find holes and problems, and not to be bold. Often when we hire former lawyers they need a month or two to get used to the fact that their mindset needs to change, to realise that they need to look for opportunity and not always worry about what happens if something goes wrong. Often enough, it can be fixed anyway. What's interesting is that two months later they will have changed, so I don't think it's the case of lawyers are inherently forever more burdened than that. They just need to adapt and embrace one simple fact: it's very hard to win if you're playing defence."
David Burgess is the founder of media law practice Reviewed & Cleared. Check our more of David's interviews for the Legal Entrepreneurs series.