'The point needed to be made', says Paul Dacre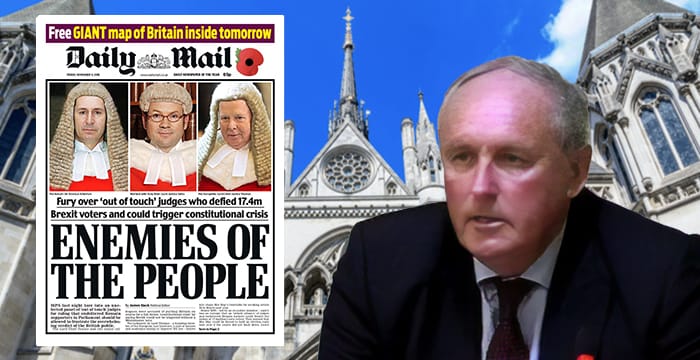 The former editor of the Daily Mail has defended the newspaper's decision to describe three prominent members of the judiciary as "enemies of the people" following the High Court's decision in the Miller case.
The High Court ruled in November 2016 that the lawful invocation of Article 50 was conditional on a free vote in parliament. Hours later the Daily Mail ran a story in which it claimed the court's decision deliberately blocked Brexit. The story's headline described the three judges who heard the case — Lord Thomas, Sir Terence Etherton, and Lord Justice Sales — as "enemies of the people".
Now, Paul Dacre, who stood down as editor earlier this summer, has defended the newspaper's controversial headline. Speaking at the Society of Editors Conference in Manchester, Dacre said the newspaper "should have the freedom to write a headline about judges being the enemy of the people".
He went on to say that his critics (including many lawyers) missed the fact the headline was a reference to a play written by Norwegian playwright Henrik Ibsen. Accepting that The Telegraph's headline, "The Judges Versus The People", was "a tad more judicious", Dacre continued:
"But what the hell. The point needed to be made. And it was the Mail's headline, not the almost identical Telegraph one, that, as happens so often, put an issue on the agenda."
The Daily Mail's criticism of the judiciary didn't stop at the High Court. When the government took its appeal to the Supreme Court, the newspaper described the justices as "11 unaccountable individuals" and gave each of them a "Europhile rating" out of five. Several months later, and in an interview with BBC Radio 4, the now former Supreme Court president Lord Neuberger accused certain sections of the press of "undermining the rule of law".
At the time of the original Daily Mail article, lawyers criticised the then Lord Chancellor Liz Truss for failing to adequately defend the judges involved. In an open letter to Truss (now chief secretary to the Treasury), 17 silks from One Crown Office Row said they were left "dismayed" by her "inadequate defence" of the judiciary.