Solicitor dresses up as Legally Blonde's Elle Woods for 'best fictional lawyer' event
Outfit included fluffy pup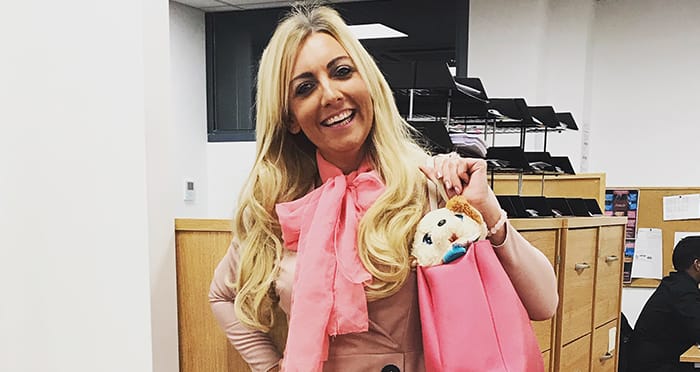 A solicitor has dressed up as Legally Blonde's Elle Woods. Keeley Lengthorn, a family law partner at 27-office outfit McMillan Williams' Bexleyheath branch, chose to dress up as the whimsical character at a fashion event at Middle Temple's grand hall on Monday.
Speaking to Legal Cheek, Lengthorn said she chose to dress up as the ditsy blonde because she's "a massive fan". Being blonde, a self-confessed lover of pink, and a lawyer meant she "ticked all the boxes"; portraying Elle was the perfect persona for Lengthorn, who admitted she has been referred to as the fictional lawyer on quite a few occasions.
The focal point of the evening at the Inn, known as 'Law in Style', was a lively debate on the 'best fictional lawyer' where ten real-life lawyers made submissions on behalf of characters including Harvey Specter from the American television series Suits, Atticus Finch, the lawyer in To Kill A Mockingbird, and Mr Jaggers of Great Expectations' fame. Coincidentally, it was the Elle Woods character who won the debate.
A cult classic among law students, Legally Blonde follows the exploits of Elle Woods, played by Reese Witherspoon, at Harvard Law School. A 2003 sequel to the hit chick flick sees Elle travel to Washington DC on a mission to ban animal testing. A third instalment is apparently in the wings.
Attending the event purely as a spectator, Lengthorn/Elle definitely looked the part. She revealed how she had put together her outfit:
"I'm wearing my own dress and glitter heels, my friend's borrowed scarf, the dog in the bag is my colleagues' son's and I had my nails painted in pink glitter especially!"
Prior to the debate, there was a fashion show which saw the antiquated hall transform into a catwalk where barristers, solicitors and support staff strutted their stuff. Though she didn't walk the runway, Lengthorn told Legal Cheek she had perfected her 'bend and snap' the night before "just in case!"
Law in Style isn't Middle Temple's first fashion-related conquest. Last month, we reported that the prestigious Inn's library is currently hosting an exhibition explaining the origins of court dress.