There's no reason why lawyers shouldn't be successful entrepreneurs, Brandsmiths founder Adam Morallee tells Reviewed & Cleared's David Burgess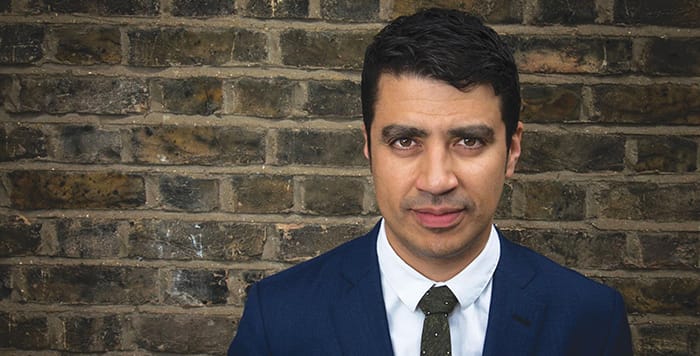 I'm in the offices of Brandsmiths in Whitechapel. Think neon lights and exposed brickwork for this firm, established just a few years ago by former Mishcon de Reya partner Adam Morallee.
Morallee greets me. Since he set up the firm in 2014, Brandsmiths has carved out a reputation as a boutique litigation firm to watch.
Clients include celebrity chef Gordon Ramsay, former world champion boxer David Haye, Microsoft, The LadBible Group, Wiggle, Pure Gym, FeelUnique and Queens Park Rangers football club, as well as car manufacturers such as Rolls Royce, Mini and BMW. In just a few short years Morallee's firm has grown from its founder, a newly qualified solicitor and a paralegal to comprise 16-17 full-time lawyers and seven consultants, with an office in Manchester as well its London hub.
I'm keen to find out how Morallee has done it.
"I was on holiday in 2014, thinking about things and how my career at Mischons had gone," he tells me. "I'd spent a decade at the firm, including five years as a partner, and it's one of the best in the country. I'd really enjoyed my time there, and I realised that whatever issues I might have about life at Mischons would only repeat themselves if I joined another firm. Issues like how you deal with other partners who aren't contributing as much but still want to be remunerated, or how you deal with the fact that all your colleagues have all been trained in a certain way and all have a specific mindset. And suddenly it struck me: what if you had a firm that was a true meritocracy?"
Morallee warms to his theme, and explains:
"If a firm was a true meritocracy, wouldn't the politics be left out of it? Politics are part and parcel of being in a law firm, or any big organisation, but it seemed to me that politics can stop a firm being a meritocracy. I found myself thinking about setting up my own practice as a place where people could get on with their work — where they could enjoy their jobs, without having to look over their shoulders and worry about climbing up a greasy pole."
The die was cast. Sitting by a pool on holiday, Morallee's vision of a firm free of politics crystallised. He found himself in a fortunate position. "As an internal promotion to partner at Mishcons, I didn't have any restrictive covenants. Everything moved really fast when I handed in my notice, and I was able to bring two big clients with me — Microsoft and BMW. Before I knew it, I'd moved into serviced offices in Southampton buildings. I had to lug the photocopier up the stairs."
Working with one lawyer and a paralegal, Morallee soon learnt an important lesson about running your own business. "There are all kinds of overheads that you don't appreciate, beyond staff wages, from VAT bills to the cost of PI insurance and counsel's fees. When I started off my running costs were £10,000 a month. Now they're more like £150,000 a month. At the beginning it was all too easy to worry about the work drying up. You might be really busy, with a couple of big cases, and you might work out all your finances and think that everything is ticking along fine, but then you'd be hit by fear. What if the work dries up? But the truth is that you can't let yourself think like that. You have to keep going, and keep believing in growing the business."
Morallee, a graduate of Liverpool University, also experienced another challenge that will be familiar to entrepreneurs from all walks of life: how to demonstrate credibility, but at the same time not alienate smaller would-be clients? Or, as he puts it: "People come to us with very, very serious problems — civil disputes with lots of money on the line. They don't want a bunch of kids doing it, so projecting experience and ability is important. But it's also vital not to deter SMEs who might think 'this is going to cost me a fortune'."
That Morallee figured out how to walk this tightrope is clear from the success of Brandsmiths, which opened a Manchester office in 2016. He says:
"I was recruiting and met a lawyer who basically told me he'd love to join the firm but wanted to work in Manchester. I could see the potential, so took the plunge. Our Manchester office is probably the fastest-growing area of the business now. Seven people work there, it's a terrific place handling lots and lots of IP work in a really interesting, entrepreneurial market."
A large dose of entrepreneurial spirit underpins not just with the Manchester venture but Brandsmiths' entire ethos, as Morallee confirms. "Building up your business is pure sales," he says. "It's about going out there, backing yourself, using the brand of the firm, using the platform of the firm to convince people that you should be trusted to handle their legal work. I love this side of the business."
Does he think lawyers can be entrepreneurs?
"Yes," is Morallee's unequivocal answer. "If you're a fee earner in a law firm, you're probably very intelligent and very good at achieving things. Anyone working in the law thinking of pursuing their own idea shouldn't underestimate the innate aspects of what it takes to be good at what they do. It may sound horribly pro-lawyer, but when I meet the chief executive of a company and find they used to be a lawyer, there's a minimum level of competence you know they have got. Not everyone wants to be entrepreneurial, and some lawyers may enjoy the purely technical side of law. But there's no reason why lawyers shouldn't also be successful entrepreneurs."
David Burgess is the founder of media law practice Reviewed & Cleared. Check our more of David's interviews for the Legal Entrepreneurs series.