Access to justice takes centre stage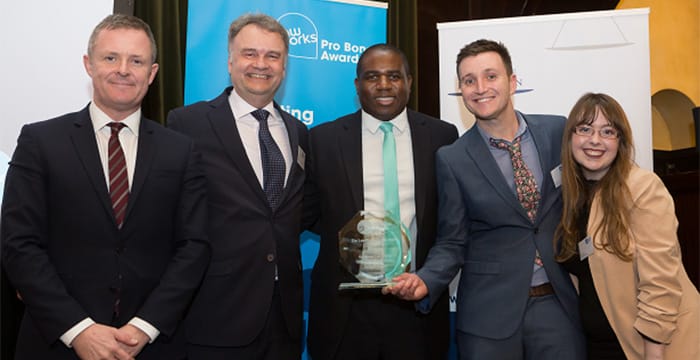 Free legal advice projects backed by law students from Cardiff, Swansea and BPP Law Schools were among the big winners at this year's LawWorks Pro Bono Awards. The gongs, dished out this year by the barrister-turned-MP for Tottenham, David Lammy, are in recognition of the commitment to pro bono by law firms, charities and legal clinics across the country.
Law students from Cardiff University walked away with the 'most effective pro bono partnership' award for their work developing a series of legal toolkits in conjunction with Mencap Cymru, a Welsh charity offering support to people with disabilities. The Mencap WISE student advice project's toolkits cover a range of legal topics, including child protection, accessing social and health care services and further education.
Another law student-backed pro bono scheme that was recognised on the night was Swansea University's Law Clinic. The project, launched in 2017, walked away with the 'LawWorks Cymru award' for providing free legal advice and assistance on housing, relationship breakdown, equality, consumer and employment issues.
Meanwhile, at St Hilda's East Legal Advice Clinic, a project there supported by BPP Law School and City outfit Macfarlanes, won the award for 'best new pro bono activity'. The legal advice clinic sees law students and lawyers provide free legal support in key areas such as employment, housing and commercial law.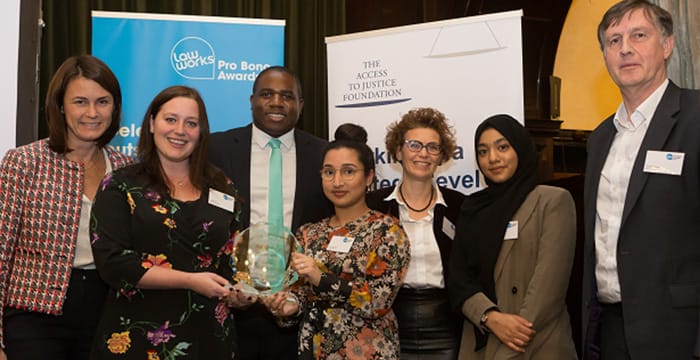 Martin Barnes, chief executive of LawWorks, a charity which helps to connect volunteer lawyers with people in need of legal advice, said: "Congratulations to the winners and finalists — all deserve recognition and celebration of their work and the difference they make in enabling access to justice."
Other winners included Louise Taylor, a medical law specialist at the London Bridge office of Anthony Gold Solicitors, who bagged the 'Junior Lawyers Division pro bono award', magic circle player Allen & Overy for 'best contribution by an international firm', and Dentons' PopLaw Clinic, which scooped 'best contribution by a pro bono clinic.' A list of all the evening's winners can be found here.