Incoming bar chief throws support behind Inns of Court BPTC
Training shake-up 'marvellous development', says Richard Atkins QC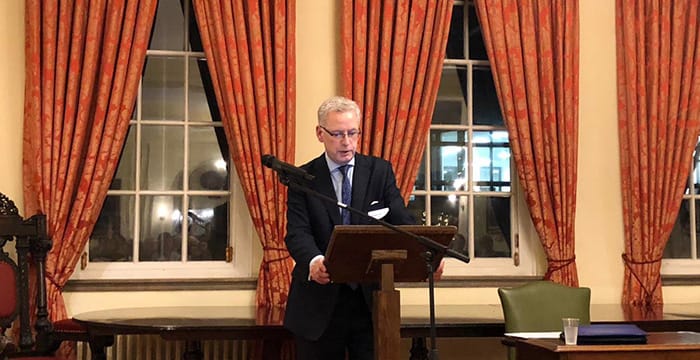 The incoming Bar Council chief has thrown his support behind an Inns of Court-run Bar Professional Training Course (BPTC).
During his inaugural speech at Gray's Inn in London yesterday evening, Richard Atkins QC told an audience of bar bigwigs that the Inns have an "important role" to play in the future education and training of barristers. Citing the Inns of Court College of Advocacy's (ICCA) plans to launch a new BPTC, the St Philips Chambers silk described it as a "marvellous development" which he hopes to see "up and running in the not too distant future."
Elsewhere in his speech, Atkins referenced what he believed to be the main issues facing the bar over the coming year. These included the state of the justice system, Brexit, regulation, court reform, equality and diversity, the perception of the Bar Council across the bar, and lastly practising as a barrister. The criminal law specialist takes over from Andrew Walker QC on 1 January 2019.
Atkins' comments come just weeks after Shami Chakrabarti claimed the Labour Party would stop the "racket" of expensive BPTCs being run by education "profiteers". Speaking at the Bar Council's annual conference last month, the shadow attorney-general and 39 Essex Chambers door tenant said Labour was ready to "work with the bar and the Inns enthusiastically and creatively on the best way to invest in the best future of the profession".
Legal Cheek revealed back in October that the ICCA — an education and training organisation made up of judges, lawyers and lecturers — was seeking a "Bar Course Designer" to help create a more "affordable" version of the BPTC. The job ad revealed an anticipated launch date in 2020.
Our BPTC Most List shows wannabe barristers can pay in northwards of £19,000 to secure a place on the vocational course.
Purchase tickets for this year's Future of Legal Education and Training Conference 2019, on May 22 at Kings Place London