The Apprentice: High street solicitor fired following boozy Christmas chocolate task
'It was an amazing experience', Sarah Ann Magson tells Legal Cheek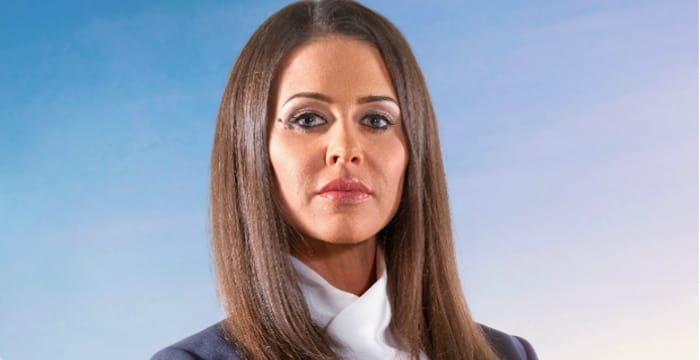 High street solicitor Sarah Ann Magson was fired from The Apprentice last night after her team took their cheeky chocolate idea a touch too far.
Yesterday evening's episode of the BBC business competition saw the last six contestants tasked with branding, designing and creating a new range of chocolates for the Christmas market. Teams were then required to compete for orders as they pitched their product to greeting card giant Moonpig and supermarket chain Co-op.
It was all looking good for Magson's team who decided on a "cheeky chocolate brand" perfect for secret Santa presents. However, when brainstorming ideas for the product's name, their quirky idea took a somewhat unexpected sexy turn. Suggestions included: Naughty List, Santa Seduction, Naughtease, The Naughty List, XXXmas Treats, Randy Rudolph, before finally arriving at Santa's Choco-Seduction. Running with the naughty rather than nice theme, their packaging featured a "cheeky little elf" alongside the slogan: "Where are you on the naughty list?"
Magson's team also ran into trouble with the chocolate manufacturing itself. Going with an alcohol flavoured chocolate, the 37-year-old Middlesbrough-based civil law specialist got slightly carried away with the taste testing. With the booze flowing, Magson failed to properly weigh her ingredients before producing the chocolate, resulting in a recipe based largely on guesswork.
@sarahannmagson fantastic! Next scene, you better be completely wrecked and on the floor. ? pic.twitter.com/WY8Hbch12i

— John Scott Cothill (@john_s_cothill) December 5, 2018
Unfortunately, the theory that sex sells clearly isn't applicable to chocolate. Their chocolates were criticised as being "seedy", "sexist" and ultimately "tasteless" — in both meanings of the word. Magson's team received only 750 orders, a measly sum in comparison to the other team's 7,000 orders. In the boardroom Lord Sugar was appalled at the sleazy chocolates: "In the words of Forest Gump, 'if life was like this box of chocolates, we'd all be in jail'."
Presented with a tough choice, the billionaire business mogul eventually held Magson responsible for bland tasting chocolates and for the overall failure of the task — making her the 11th candidate to leave the competition.
Speaking to Legal Cheek, Magson said:
"I'm really disappointed to be out of the process at this stage, although it was an amazing experience, I think a lawyer in the final 5 would have made history! I guess it's true that a solicitor cannot 'lay down the law' in the boardroom!"