University of Bristol law grad Eve Cornwell's clip has already racked up 47,000 views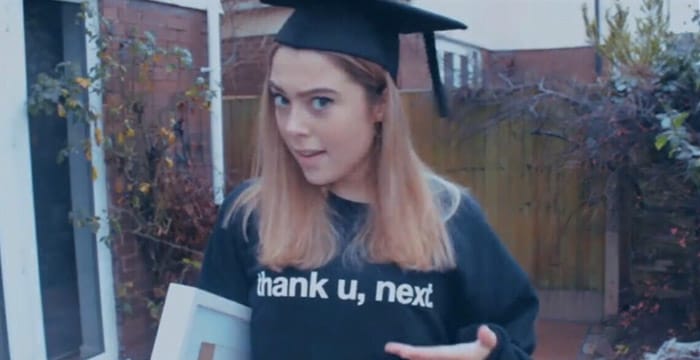 Youtube star and future magic circle trainee Eve Cornwell has dropped her own law school inspired rendition of Ariana Grande's smash hit thank u, next.
While Grande's anthem is a bittersweet ode to her former flames, University of Bristol law grad Cornwell's effort charts her tempestuous relationship with law school. The short YouTube clip, 'thank u, next: LAW STUDENT EDITION' (embedded below), was uploaded to the video giant's website on Monday afternoon and has already garnered a staggering 47,000 views.
In the video, viewers watch future Linklaters trainee Cornwell contemplate studying politics or history whilst filling out her 'burn book' before settling on law. There are other humorous skits: shredding of law notes, bopping along to the upbeat soundtrack in a graduation cap, and of course, the iconic Legally Blonde 'bend and snap' (which Grande pays homage to in the original video) in a Bristol Uni tee while sipping a cocktail.
The video also sees the star mash-up the lyrics to Grande's popular song and add a legal twist:
"Spend more time with my books,
I ain't worried 'bout everything,
plus I'm way less intelligent than I thought I was,
we haven't had a 2:1 in weeks,
I know they say I'ma cram everything,
this ain't gon last,
because her name is law,
and I'm so good with that?"
So who is Cornwell? The vlogging sensation has an incredibly popular channel on YouTube boasting almost 80,000 subscribers and a total of 3.2 million views.
Cornwell graduated from Bristol Uni earlier this year and is about to embark on the Legal Practice Course (LPC). Her page is filled with videos documenting her daily routine, latest fashion finds, travels abroad and of course, her life in law. She is due to start her training contract at Linklaters next September.
You can follow Cornwell's exploits via her YouTube channel, as well as her Instagram and Twitter pages.