?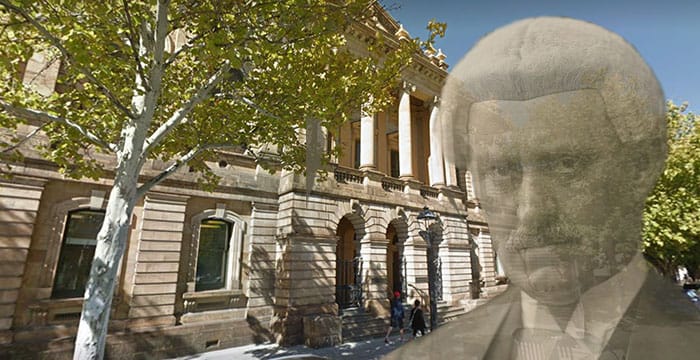 The former Supreme Court Chief Justice of Australia, Sir George Murray, has expressed his concern with plans to redevelop the Adelaide courtroom where he spent over a quarter of a century — despite dying almost 80 years ago.
The $31 million (£17 million) plans to upgrade the state's Supreme and District Court buildings, including the addition of three criminal courtrooms, took an unexpected turn recently when an unnamed psychic medium informed building contractors that Sir Murray was less than impressed with the redevelopment.
Construction firm Hansen Yuncken hired the woman following a spate of spooky incidents, including a fire extinguisher and chairs being moved around the courtrooms, Aussie website The Advertiser (£) reported. It is understood Murray is unhappy with the rearrangement of the position of the bench where judges sat.
Having completed a degree in English literature at the University of Adelaide, Murray moved to the UK to study law at the University of Cambridge. He returned to his homeland shortly after being called to the Inner Temple in 1888. Murray sat as a judge on South Australia's Supreme Court bench from April 1913 until his death in 1942, aged 78.
Revealing that the medium was drawn to courtroom number 11 in particular, a spokesperson for Hansen Yuncken told the website: "She [the medium] looked at the site plan, felt a presence on the plan and then realised that was where the issue was. The medium went down to the room and felt a presence there." The spokesperson continued:
"Apparently she spoke to what she called the 'spirit', which was a Supreme Court judge, Sir George Murray, who was a little bit annoyed that the layout of his courtroom had changed so he has been causing a little bit of mayhem. There might be a little bit of a design change to keep the judge happy. There may well be some things to accommodate his, shall we say, temper."
This isn't the first time Legal Cheek has reported on ghostly goings-on. In 2015, we reported on CCTV footage from a law firm in Santiago, Chile, showing a woman being shoved to the ground by a mysterious force. The then 34-year-old, who was hospitalised for head injuries as a result of the incident, claimed it was a ghost.