Her cat also makes an appearance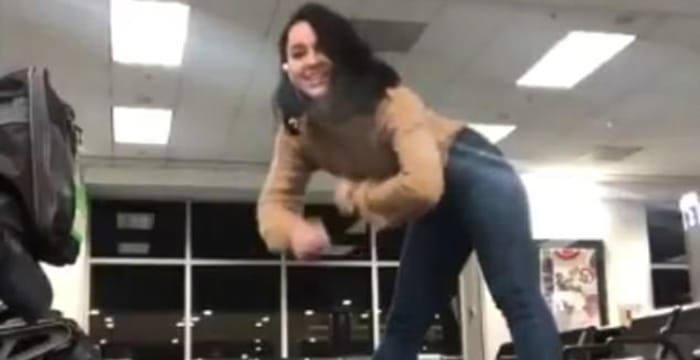 A law student has come up with a quirky way to pass time while waiting for a flight at the airport.
Katie Gould, a law student from Atlanta, Georgia, missed her flight from Hartsfield-Jackson airport to Milwaukee on Thursday. With four hours to spare until the next one, the self-described "Vine connoisseur" and traveller decided to film a dance montage (below) to pass time.
I missed my flight and it was 4 hours until the next so this is what I did pic.twitter.com/BPHMU9q5km

— lil hunny (@katiemgould) January 10, 2019
The video, which has gone mega-viral since being uploaded on Twitter, has been viewed a whopping 8.7 million times and garnered 358,000 likes and 57,000 retweets. Viewers see Gould bop along to American pop rock duo Hall & Oates' hit 80s track You Make My Dreams in the two-minute clip which also sees the 23-year-old bust moves in various places around the airport terminal, including an information point, gate waiting area and even a moving walkway.
Her cat Bowie, presumably named after another rock god, also makes an appearance in the video, which has been met with rave reviews online, including from the band itself. Hall & Oates wrote, "Impressive you can dance that long!" in response to the tribute, while actor Joseph Gordon-Levitt, who danced to the same song during a scene in the 2009 rom-com 500 Days of Summer, wrote "Endorsed :)" on the law student's page.
Gould has been overwhelmed by the response. "I really wasn't expecting this. I was just bored at the airport and thought I'd laugh at myself and dance a little bit," she tweeted. "I'm so glad so many people laughed along with me. I'm overwhelmed. Thank you all ? plz dance, write, love and create more. Life is too short."