It's racked up over 57,000 views already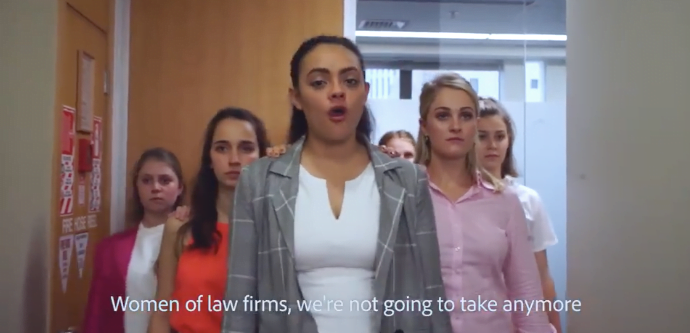 A group of law students have released a music video that takes aim at sexual harassment in the legal profession.
The viral video is a parody of UK singer Dua Lipa's smash hit New Rules and has been produced by the Wellington Law Revue, a collection of musically-minded wannabe lawyers from Wellington, New Zealand. Racking up over 57,000 views in under a week, the video focuses on the HR manager of a fictional law firm reprimanding male lawyers for harassing young female members of staff.
NEW RULES WELLINGTON LAW REVUE

*** CW: References to sexual assault and harassment ***

Our extremely talented team have spent the last few months writing, recording and filming to put this MUSIC VIDEO together. Sung by our very own Leilani Taula, we think the legal profession is well overdue for a few NEW RULES in the workplace. #metoo

Posted by Wellington Law Revue on Wednesday, August 8, 2018
Making her way around the firm's office, the head of HR calls for, among other things, an end to "dirty jokes, unwanted touches, hugs or gropes." Demanding a change in the way women are treated in the workplace, the chorus goes:
"We want new rules, we want them
We want new rules, we want them
We gotta hold them to account
We want new rules, we want them
It's not that hard to figure out."
Turning things up a notch, the track suggests law is full of "pervs" and that life for a woman can be "like living in an episode of Mad Men". The video ends with the HR manager threatening to burn the office to the ground and kill all men, before turning to the camera and saying: "Come on you guys, can't you take a joke?"
Catchy parody aside, the legal profession has been rocked by allegations of misconduct in recent months.
In February, Dentons confirmed one of its London partners placed on a leave of absence following allegations he had acted inappropriately towards female members of staff had left the firm. At the time, the global law firm said his behaviour "fell well below the expectations that we have of our partners", however it "found no evidence of sexual harassment".
One month later, Baker McKenzie revealed one of its partners was leaving amid an allegation of sexual assault. The incident reportedly occurred after the partner in question invited a number of lawyers, including the victim, back to his hotel for drinks.