Angelica Olawepo's YouTube channel has garnered over 56,000 views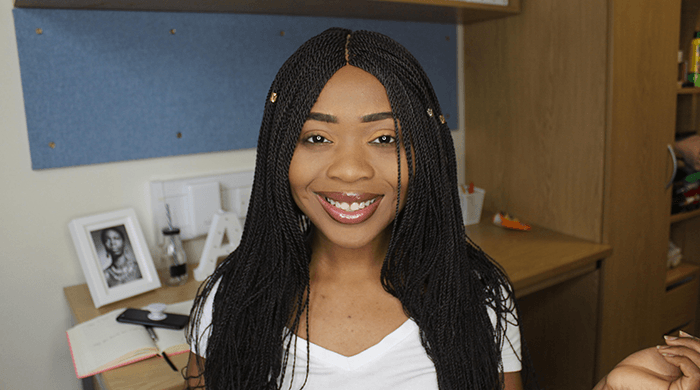 London School of Economics (LSE) law student Angelica Olawepo is the latest vlogger to take to YouTube to share her legal tips and tricks.
Her growing channel, Angeliculture, which has over 1,000 subscribers and has received more than 56,000 views, features videos about careers and study advice, as well as vlogs documenting her university experience.
In her most popular video (embedded below), with over 12,000 views, Olawepo recalls her A-Level results day experience. She explains that rather than posting her live reaction on the day itself, she chose to wait two years before making the video. This was so that her story could resonate among viewers — rather than looking speculatively towards the future, Olawepo was able to cast her mind back and evaluate the progress she has made so far.
Olawepo has since released a string of videos aimed at aspiring law students. In one clip (below), Olawepo, who received offers from a number of Russell Group universities, instructs viewers on how to write a "phenomenal" personal statement when applying to law school. Another sees her outline five tips that helped her to achieve A*, A*, A at A-Level.
Her channel also offers insight into life as an LSE law student. One clip reveals how Olawepo takes effective notes — a tip she picked up at Oxford, where she completed the Lady Margaret Hall Foundation Year prior to joining LSE. For example, her approach to tackling reading lists is through formatting notes in tables, rather than lists.
In her series, 'LSEVlogs', viewers get to see Olawepo's journey to date: starting from moving into university accommodation to getting ready for a university Christmas ball. When asked about how she manages her academic studies with her YouTube channel, Olawepo tells Legal Cheek that she produces videos in bulk. "Right now, I have about nine videos which have been filmed, edited and scheduled in advance, so that I can focus on preparing for my January exams," she explains.
Olawepo, who hopes to become a solicitor, also shares with Legal Cheek that she started her channel with the intention of raising awareness of social mobility schemes designed to widen access into the legal profession. Many of which Olawepo, "a working-class student from a single parent home, living in an area of extreme deprivation", benefited from herself.
Looking to the future, Olawepo is set to release a video on how she managed to build her experience in the legal industry. "Honestly, I have a whole notebook full of my ideas and in 2019 I plan to create a LOT of content about law!" she says.
Keep up with Olawepo's journey by following her YouTube channel, as well as her Twitter and Instagram pages.
Comments on this article are now closed.