Hani Hussein also claimed to have completed the BPTC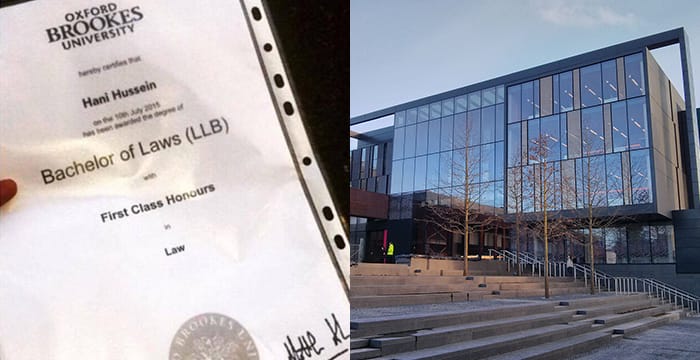 A young paralegal has been rebuked and fined £2,000 after she was found to have lied about her legal qualifications.
Hani Hussein, who worked at Oracle Solicitors and Consultants in North London, posted her CV to an online job website stating that she held a first class law degree from Oxford Brookes University and had also completed the Bar Professional Training Course (BPTC) at the College of Law (now the University of Law). The Solicitors Regulation Authority (SRA) found neither of these statements to be true.
The regulator said: "Ms Hussein's conduct was neither trivial nor justifiably inadvertent. Ms Hussein's conduct was deliberate: she gave the impression she had certain qualifications and; she benefited financially from her deceit."
According to yesterday's published decision, her employers discovered she'd cited qualifications that she didn't possess after reviewing her CV. Hussein worked at Oracle from late July to early August 2017.
The SRA added: "Ms Hussein was dishonest. Honesty and integrity are central to one's role as the client's trusted adviser. They are required of all those involved in the provision of legal services and Ms Hussein has demonstrated that she can act without these. A dishonesty finding is an exceptionally serious matter for a member of a profession whose reputation depends on trust."
On top of her fine, Hussein was handed a section 43 order, which prevents her from working in a law firm without prior permission from the regulator.
Hussein's legal qualifications were first called into question back in early 2017 after a photograph purporting to show a copy of her Oxford Brookes degree certificate (pictured top) began circulating around Twitter. Speaking at the time, a spokesperson for the university confirmed to Legal Cheek that she "had not completed the requirements for a degree and was therefore, not awarded the qualification."
Meanwhile, Hussein's Twitter account, which has since been deleted, stated, among other things, that she was a "1st Class Law Graduate", "BPTC Graduate" and "Future Pupil Barrister".