'What level of tinpot jobsworthery brings this about?'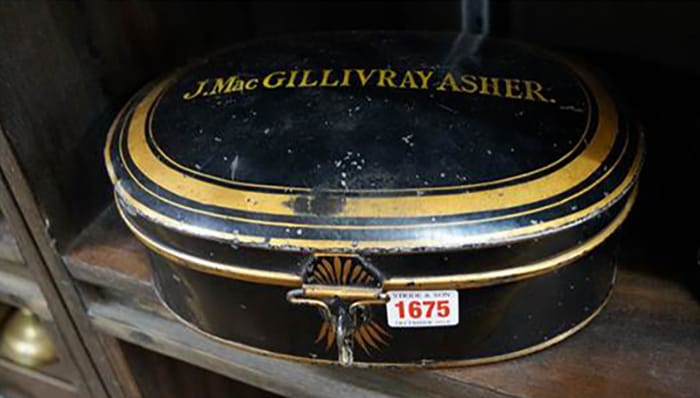 Security guards at Croydon Magistrates' Court confiscated a pupil barrister's wig tin earlier this week — and lawyers aren't impressed.
In this latest example of overzealous security, criminal pupil BarelyABarrister revealed his or her shock at advice from security that counsel should keep their pricey horsehair wigs in plastic containers.
A new level of stupidity. Staff at Croydon mags have been instructed to confiscate wig tins. Advice is that counsel should keep their wigs in a plastic container. @CEOofHMCTS – are you able to explain the rationale behind this?

— BarelyABarrister (@BarelyBarrister) February 12, 2019
For the unfamiliar, it's common for barristers to keep their wigs in personalised metal tins (pictured above) to prevent them from being damaged during transport to and from the court.
Cue the perplexed lawyers.
Jason Hadden, a barrister St Ives Chambers, warned, "Next they'll be taking the wigs!", while family solicitor Ian Giddings, referencing the infamous sip-test, added: "I thought if you sipped your coffee from your wig tin you were OK to go through security?"
Other lawyers were quick to pile in:
And it isn't even April 1st. What level of tinpot jobsworthery brings this about?

— Jonathan Dunne (@DunneJonathan) February 12, 2019
Can't they go the whole hog and seize your wigs too…a shower cap will surely suffice? #deathbyathousandcuts?

— Nicola Poole (@AtHedges) February 12, 2019
I thought the trend was to go plastic free.

— . (@HappyHerdwick) February 12, 2019
Responding to BarelyABarrister's original post, HM Courts & Tribunal Service (HMCTS) apologised for the security mix-up, stating its "guidelines were misinterpreted".
We're really sorry that your wig tin was confiscated, unfortunately our guidelines were misinterpreted. We will remind Court Security Officers of the correct procedures.

— HMCTS (@HMCTSgovuk) February 12, 2019
This, however, isn't the first time court security grumblings have spilt over into social media.
Last year, Guy Bowden, a criminal barrister at London's Red Lion Chambers, claimed a colleague of his was forced to use a plastic driving licence to eat his pasta lunch after court security allegedly confiscated his fork. Meanwhile, QEB Hollis Whiteman barrister Adam King told his Twitter followers a colleague had to conduct a hearing in bare feet after she had her shoes confiscated by guards for being "too spiky".