Former solicitor-advocate faces fraud retrial after collapsing in court last month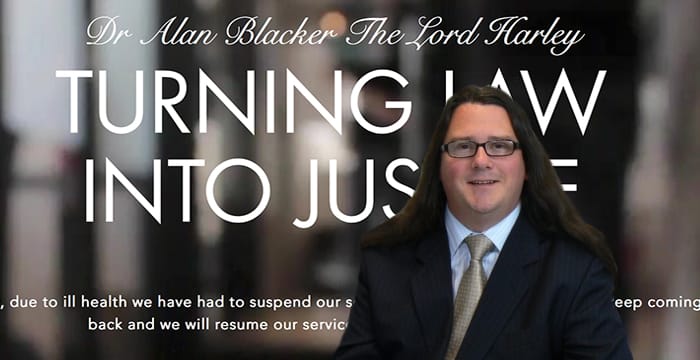 Former solicitor-advocate Alan Blacker, aka Lord Harley, has a flashy new legal website. News of Blacker's online rebrand comes just weeks following him being rushed to hospital after collapsing in court.
According to the site, which appears to have gone live recently, "Dr Alan Blacker The Lord Harley" offers a wide range of "consulting services" to industries including "legal and educational". Under the motto "Turning Law into Justice", the site goes on to say that he can provide "the comprehensive capabilities and deep industry knowledge necessary to help you solve the most complex issues."
Blacker, who was struck off in 2016 after multiple misconduct charges were proven, lists his specialisms as "human rights, "social justice", "mental health" and "vulnerable people". Chock-full of corporate stock imagery, including one shot of a sharply-dressed businessman in a modern city office, Blacker's site stresses that it's "not a law firm" but can provide access to solicitors, barristers and other professionals.
The new online offering appears to the reincarnation of the Joint Armed Forces Legal Advocacy Service (JAFLAS), a charity set up by Blacker and where he worked as an in-house solicitor.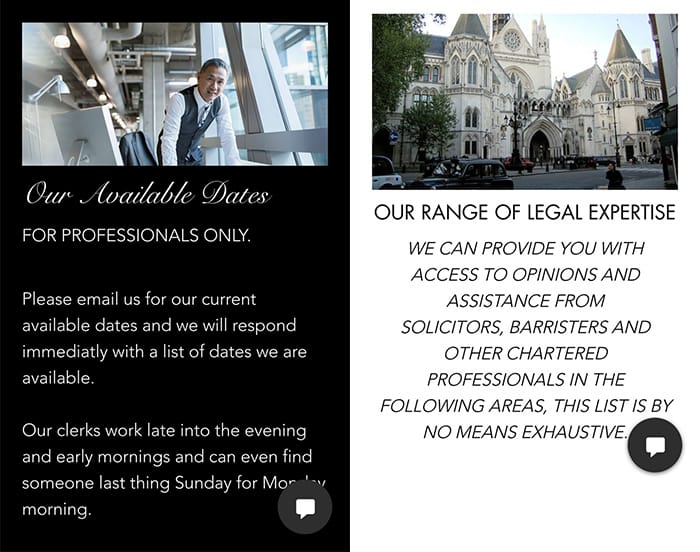 Elsewhere on the site, it states:
"Our clerks work late into the evening and early mornings and can even find someone last thing Sunday for Monday morning."
As reported by Legal Cheek, forty-six-year-old Blacker appeared at Manchester's Minshull Street Crown Court last month accused of failing to notify the Department for Work and Pensions (DWP) of a change in his circumstances and dishonestly making statements about his physical capacity.
The trial, however, came to an abrupt halt (and later rescheduled for 2 September) when Blacker was hospitalised after collapsing in court. He denies the two charges against him. Thanking wellwishers, a statement on the website confirms services are suspended until further notice.
Blacker didn't respond to Legal Cheek's request for comment.
Comments on this article are closed for legal reasons.