Winner to be announced at the Legal Cheek Awards on 21 March, alongside a host of other categories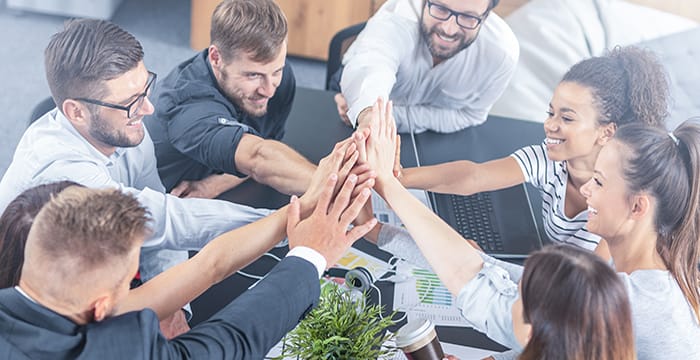 A lot goes into building a happy group of trainees and junior lawyers.
To start, there's the original recruitment process — you don't want a bunch of clones, but make a mistake that lets in one difficult character and the whole group dynamic can be soured. Then there is the building of bonds through the Legal Practice Course (LPC), where firms need to do enough to foster a common identity without being on their future trainees' backs the whole time.
But the most difficult bit must surely be the training contract itself, where competition for seat choices, and ultimately newly qualified solicitor positions, can fracture friendships. Will the chemistry of the trainee intake withstand such potent forces?
As part of the Legal Cheek Trainee and Junior Lawyer Survey, we asked over 2,000 of the nation's rookie solicitors how supportive were there peers on a scale of one to ten — with one being 'I don't leave my wallet on my desk when I go to the toilet' and ten 'We're all joint godparents to each others' future children'.
Out of over 80 firms surveyed, these are the 15 which did best. The best-performer will be revealed at the Legal Cheek Awards later this month.
The law firms which scored an A* for peer support in the Legal Cheek Trainee and Junior Lawyer Survey
Baker McKenzie
Bristows
Burges Salmon
Farrer & Co
Herbert Smith Freehills
Hogan Lovells
Irwin Mitchell
Linklaters
Mayer Brown
Osborne Clarke
Pinsent Masons
PwC
Simmons & Simmons
Taylor Wessing
White & Case
As part of the survey we received hundreds of anonymous comments. Here are some of the standout ones for the peer supportiveness category.
"Whether it's a party invite or a call for help, a message on our cohort's group chat will get a pretty instant reply. Half of us live together and there'll always be a group in the canteen at lunchtime."
"I once carried a fellow trainee to the hospital after a football injury and Instagram storied the entire event #diditforthegram."
"Embarrassingly so or not, I spend most weekends with the other trainees in my cohort — some of which have become some of my closest friends!"
"Our intake has become friends first, colleagues second… Probably entertainers third."
"It's a bunch that will go through hell and back with you."
"There are some snakey trainees (especially in the first year where they are very concerned with who is qualifying where, despite not even knowing your name) but overall my trainee intake are my closest friends."
"People are interested in what you are doing and are empathetic if you have to put in a long shift, but they're unlikely to offer to take something off your hands because they will probably be busy as well."
"[It was] much better on the LPC — we've splintered and getting more than four out for a Friday pint is a mission."
The firm with the most supportive trainees and junior lawyers will be announced at the Legal Cheek Awards 2019 on March 21 at the Cheesegrater in London.
Peruse all of the firm's survey scorecards — including training, quality of work, perks and much more — via the Legal Cheek Firms Most List 2019.