A rundown of the corporate outfits leaving rookies hungry for more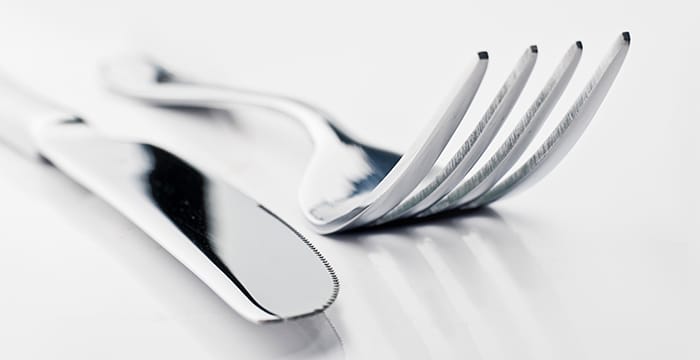 They say 'you are what you eat' — so in the case of hardworking corporate lawyers, it's hoped their diets consist of well-rounded, nutritious dishes. But which law firms are keeping their lawyers happy, not hungry?
Legal Cheek asked over 2,000 trainees and junior lawyers to rate their office canteen on a one to ten sliding scale, with one defined as 'Thank God for Deliveroo' and ten as 'The sommelier really knows his stuff'. Today we exclusively reveal which top UK corporate law firms are deemed a fine dining experience.
In alphabetical order, the firms which scooped A* grades are…
Addleshaw Goddard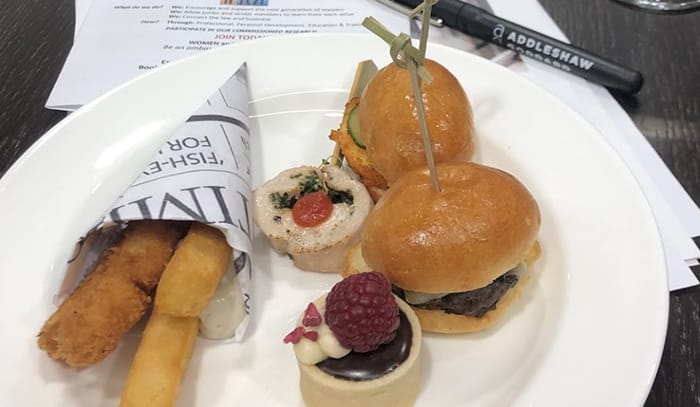 This firm's A* rated canteen is praised for its "fresh and homemade" offerings and its "incredibly friendly staff". According to one trainee, it's "one of the best things" about working at Addleshaw Goddard.
In the Manchester office, trainees can enjoy pancakes every Thursday morning — a "particular favourite," one rookie tells us. Come lunchtime, lawyers are overwhelmed with choice. For those feeling healthy, "fancy salads" and "daily vegetarian options" are available. Otherwise, associates can tuck into a cheeky portion of "cheesy chips" or skip straight to dessert. We're also told the firm's cookies are sublime.
Its subsidised canteens mean AG's lawyers get more bang for their buck. One respondent reveals, "you can often get a nice hot meal and a drink for under 5 quid", however, the "portion sizes" can be on the small side.
Read Addleshaw Goddard's Legal Cheek profile in full, featuring its 2019 scorecard grades and firm review.
Bird & Bird
Offering panoramic views of the City, Bird & Bird's 11th-floor canteen allows its lawyers to dine in style.
Lawyers can enjoy smooth barista-made coffee (free of course), along with an excellent selection of cooked and non-cooked breakfasts. There's also a good range of salads and vegetarian food, one spy tells us.
Despite one respondent claiming the canteen is becoming "a bit stingy on portions," most rated it "generally good", meaning there's little reason for Bird & Bird's lawyers to fly the nest in search of alternatives.
Read Bird & Bird's Legal Cheek profile in full, featuring its 2019 scorecard grades and firm review.
Burges Salmon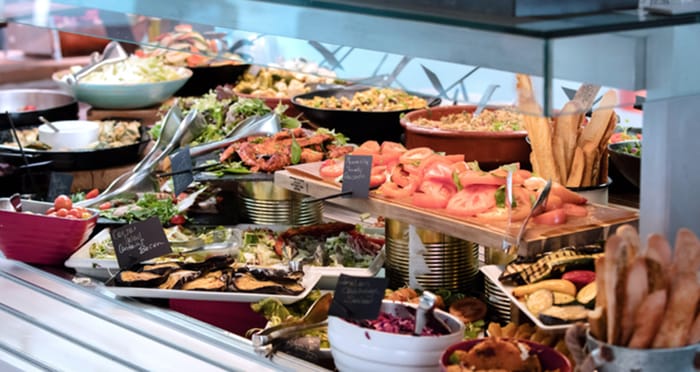 Over in Bristol, Burges Salmon's on-site restaurant, Glassworks, enjoys heavenly reviews, with one trainee calling it a "god send".
It serves up a range of hot and cold food throughout the day — all for a reasonable price, one insider explains. "Food is really up to scratch and very tasty", adds another, with props to the "incredz" chefs who "really go out of their way to make something special". The firm's "particularly good cakes" also get a mention.
Despite this, one hungry rookie suggests there can be a "lack of options" in the evening, while another says "it would be better if there was discounted food" after a certain time.
Still, the canteen appears to be Bristol's next romantic getaway, as one respondent admits: "I would take dates there if I could sneak them through security".
Read Burges Salmon's Legal Cheek profile in full, featuring its 2019 scorecard grades and firm review.
Clyde & Co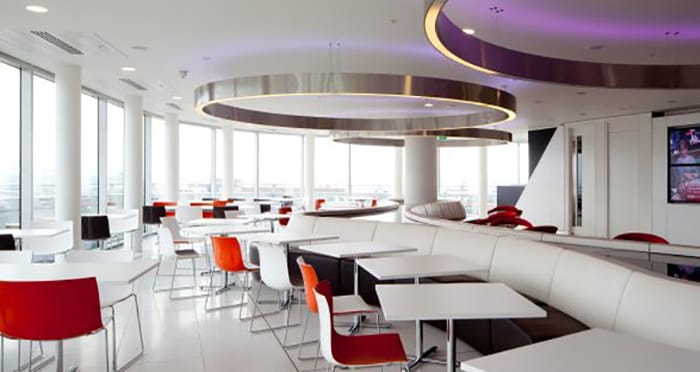 Clyde & Co's impressive top floor canteen offers "beautiful" views of the City, insiders tell us.
The firm's London canteen boasts a "good variety of food", ranging from "decent to excellent", and a menu that "changes regularly". The "amazing pastry chef" gets a special mention, as does the "fun themed days where they bring in street food vendors or have MASSIVE MILKSHAKES". Apparently the "cake counter is also worth a visit".
Prices are "getting more expensive", one associate says, but overall costs are "reasonable" and "good value for money".
One respondent is disappointed with the 5pm closing time, which "although reflective of most of the firms", is not much help for those working late. But for those staying for a nightcap, the canteen converts into an exclusive bar at night. Here lawyers can grab a free beer every other Thursday and join the firm's monthly social, Clyde & Cocktails.
Read Clyde & Co's Legal Cheek profile in full, featuring its 2019 scorecard grades and firm review.
Gowling WLG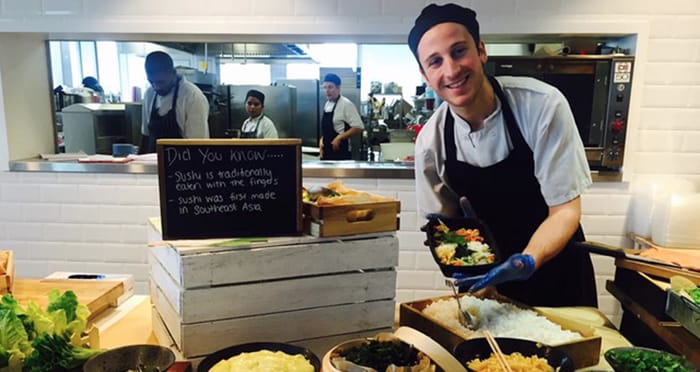 Gowling WLG's canteen gets a big thumbs-up from its trainees, especially at the firm's Birmingham HQ.
Even with an extensive menu, it's the firm's classic cuisines that our sources rave about. We hear the "legendary" Mars bar cake is worth a try, while a visit to the "particularly impressive" omelette bar is simply a must.
The only criticism of the canteen was its early closing time of 4pm, which according to one lawyer leaves those working later without their evening supper. That aside, this "great" canteen seems well worth a visit.
Read Gowling WLG's Legal Cheek profile in full, featuring its 2019 scorecard grades and firm review.
Jones Day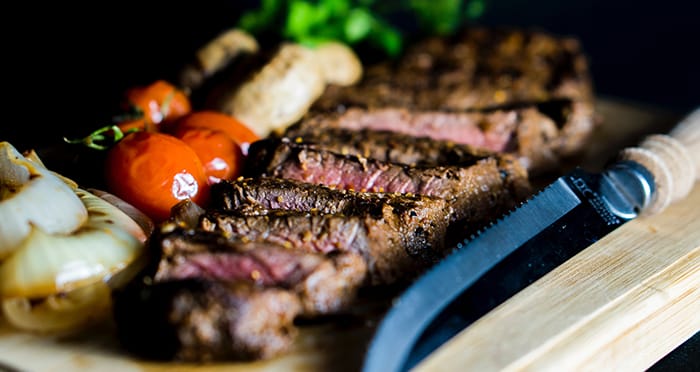 The canteen at Jones Day's London office is held in high regard among its lawyer ranks, with one trainee describing it as "consistently good".
"Breakfast, lunch and dinner are all superb", with the friendly café staff receiving a special mention. There is also a range of healthy "vegetarian options" on offer, too.
The Ohio-headquartered outfit also treats its London lot to "steaks cooked to order for dinner" — giving lawyers a taste of Midwest American cuisine. As one respondent says: "Turns out corporate hours do have an upside!". For those hitting the firm's on-site gym, on-demand steaks act as an ideal post-workout snack.
Read Jones Day's Legal Cheek profile in full, featuring its 2019 scorecard grades and firm review.
K&L Gates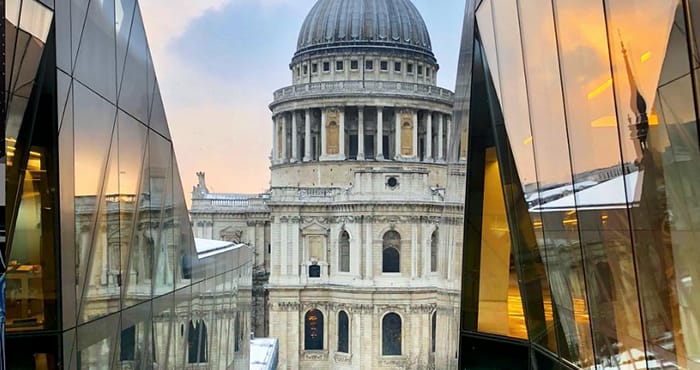 Having 46 offices in 18 countries is not the only thing K&L Gates can boast about. It also bagged an A* for its London canteen.
"Great food, great variety and great value" is how one trainee describes the US law firm's cafeteria. Despite the "odd unusual experimental dish", the K&L Gates' lawyers appreciate the subsidised prices and look forward to the delicious bacon sandwiches served on Fridays.
Boasting a private terrace overlooking St Paul's Cathedral, lawyers enjoy impressive views, too, with summer lunches being a particular treat.
Read K&L Gates' Legal Cheek profile in full, featuring its 2019 scorecard grades and firm review.
Kirkland & Ellis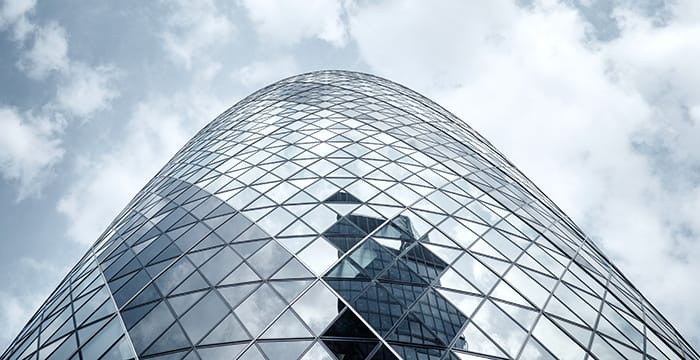 Despite its jaw-dropping newly qualified salaries of £143,000, Kirkland & Ellis' associates still enjoy a heavily subsidised canteen which provides, according to one trainee, "decent food".
Located in London's iconic skyscraper, the Gherkin, the firm's cafeteria reportedly offers a "good range of options" for lunch and dinner, while the Thursday night buffets are understood to be a big hit. Kirkland takes care of its lawyers who are working late, too, by covering £25 expenditure on their Deliveroo orders. This makes those evenings in the office a whole lot easier, one insider reports.
Bellies full, Kikrland's lawyers are just a short elevator ride to Iris, the swanky bar at the very top of the Gherkin which offers 360-degree views of the City.
Read Kirkland & Ellis's Legal Cheek profile in full, featuring its 2019 scorecard grades and firm review.
Linklaters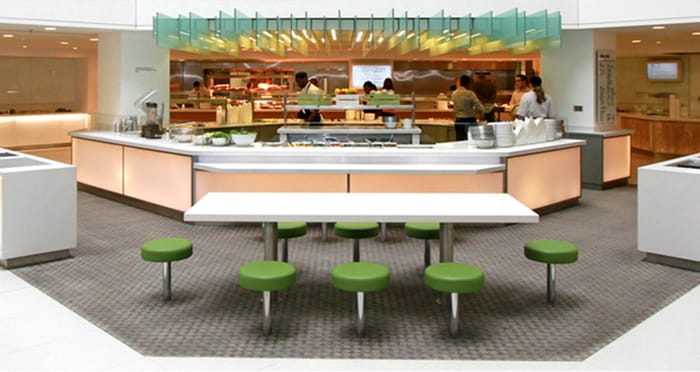 Magic circle giant Linklaters keeps its lawyers coming back for more with its cuisine which apparently "never fails" to satisfy.
The firm's in-house restaurant, Silks, scores rave reviews for its "cheap", but "exceptional" food cooked by "Michelin star" worthy chefs. Our survey spies love the "great vegan experimentation", as well as the "wide variety of food stations, cuisines and seasonal themes". See the selection for yourself on the canteen's very own Instagram account.
Although open 24/7, a couple of spies note the "limited dinner options" that they say are "leftovers" from the day. By comparison, one respondent confesses to having "no complaints — even after 3 meals a day". Overall, it seems Links' lawyers won't be turning down this "good quality" food any time soon.
Read Linklaters' Legal Cheek profile in full, featuring its 2019 scorecard grades and firm review.
Taylor Wessing
Rounding off the list of nominees is international firm Taylor Wessing. One source tells us the firm's A* canteen dishes out a range of "superb" hot and cold food.
Offering super-cool views across legal London, especially from the firm's "stunning" terrace area, generous subsidies mean that the grub is "really good value", another spy tells us. The canteen also appeals to those burning the midnight oil — with those working late able to enjoy free meals after 8pm.
Read Taylor Wessing's Legal Cheek profile in full, featuring its 2019 scorecard grades and firm review.
---
The firm with the best canteen will be announced at the Legal Cheek Awards 2019 on 21 March at the Cheesegrater in London.
Peruse all of the firms' new 2018-19 survey scorecards — including training, quality of work, perks and much more — via the Legal Cheek Firms Most List 2018-19.