Unlimited bar tabs, festivals and a 'Pedibus'! It's work hard and play even harder for these corporate trainees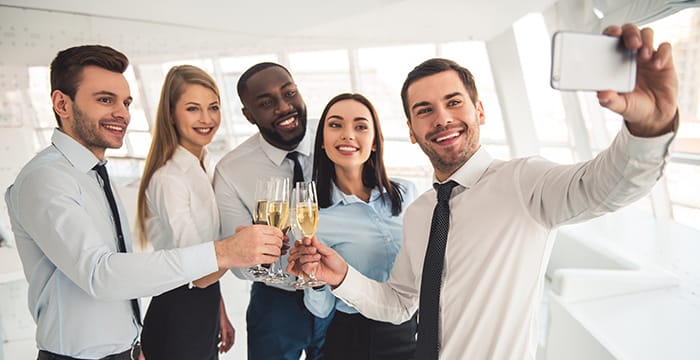 Corporate law and social life are two realms you wouldn't normally think mix. After all, the City is notorious for its long hours, looming deadlines and copious amounts of paperwork which, it would seem, leave little time for leisurely pursuits. But it's not all work and no play.
Ten law firms have been awarded our highest A* grade for social life in Legal Cheek's Trainee and Junior Lawyer Survey of over 2,000 trainees and junior associates at the country's 80 leading corporate law firms.
As part of the exclusive survey, respondents were asked to rank their firm's social life on a one to ten sliding scale, with one being 'Assange' and the top score of ten defined as, 'Kardashian'.
Here is the shortlist, listed alphabetically, for the law firms with the best social life 2019…
Bristows
Bristows performed well across the board in this year's survey, bagging A*s in six categories. The social scene at its Blackfriars base is highly rated. "There is always something going on," says one rookie, "from the weekly drinks trolley to the black-tie dinner dance."
Leading intellectual property practice Bristows, which overlooks the Thames, is not short of top-end bars, clubs and pubs in the vicinity. "Plenty of casual and more formal drinks events," responds one insider.
One particular highlight that caught Legal Cheek's attention is the "Pedibus social around the City". Drinks on board as you peddle your way through the streets of London taking in the hustle and bustle and City sights (while burning those calories) is definitely one way to socialise.
Browne Jacobson
The social scene at Nottingham-based national law firm Browne Jacobson is buzzing. "People will go out but no 'obligation' to be 5 pints down on a Thursday night," reports one rookie. With Thursday's like that, we can't wait for Friday night!
Each year the firm allocates its trainees a social budget to be spent at will. Previous undertakings include trampolining, escapology and food tasting experiences at quirky eateries. We're told these are great ways to catch up with fellow trainees since the group is split across the firm's five offices.
A dedicated sports and social committee also hosts events which in the past have included Christmas shopping trips and pizza and prosecco nights.
Burges Salmon
The social life at Bristol-headquartered Burges Salmon is positively pumping (by corporate law standards). "I've just been to an escape room experience and cider tasting and I'm heading off to our summer party/festival at the zoo tonight with wine tasting next week… next question?" boasts one lucky trainee.
"I can't lie. We have great socials and events going on all the time," chimes another. "Roll on the Burges Salmon festival tonight!" Oh, what we'd give to be a fly on the wall there!
Indeed, the firm has a wide social offering, starting with its very own social club, BSocial. When they're not busy at their desks, trainees can look forward to discounted theatre and cinema tickets as well as events and weekend trips away. Wine and cheese tasting, cupcake decorating and even make-up tutorials were reportedly on the roster this year.
The more sports-minded lawyers are well catered for. There are football, hockey and running clubs, as well as Pilates, yoga and circuits classes available at the firm for rookies to get involved in.
With so much on offer you'd be forgiven for thinking Burges' lot receive more RSVPs than work emails, but one lawyer shares a somewhat more solemn response: "It is what you want to make of it."
Charles Russell Speechlys
The vibe over at Fleet Street outfit Charles Russell Speechlys is "pretty good" so we hear. "There are usually social events going on, firmwide and departmentally," reports one insider, while another remarks: "Almost too many social events (if you get involved)."
These events take the form of summer and Christmas parties — the last two of which have been held at The Savoy. There's a "Sports Dinner" and "department drinks" and "Friday nights at the local pubs" — several of which are in close proximity to the private client specialist.
It's not all dinner and drinks, though. These rookies are a close-knit group (Charles Russell has a small intake of around 25 trainees) and one source says that they often "play tennis, go for runs" together. How amiable.
K&L Gates
The London office of US outfit K&L Gates is a lively one.
Located in the heart of the City, in One New Change, a towering glass and steel construction that overlooks St Paul's Cathedral and the fancy restaurant and shopping complex below, it's no wonder this firm has one of the best social scenes in legal London.
A small cohort of just 16 trainees means they're pretty pally. "We generally go for Thursday/Friday night drinks and trainees and NQs frequently organise ad hoc socials," explains one respondent. On a late night, you might catch some trainees mingling over a pint or two at the firm's very own rooftop bar.
RPC
RPC's lot are a social bunch. A relatively small London trainee intake of ten gives the training contract experience a personal touch. "I often socialise with trainees and more broadly," responds one insider, while another says "the trainees are always socialising, with "a lot of intra-departmental events put on which tend to be popular."
The activity extends to social media. The firm's trainees get to tweet and post pics from completely uncensored Twitter and Instagram accounts — @LifeInALawFirm — which features an array of pics including partner/trainee table football showdowns and trips to 'Swingers' crazy golf, among others.
The scene seems to have survived the recent scrapping of the Hogwarts-style RPC "house system", which saw trainees divided into separate groups. "We're waiting to see whether full firm socials increase," says one hopeful. But the signs at the moment are that it may even have benefitted from it, with RPC receiving its strongest ever score for social life in Legal Cheek's annual survey.
However, a busy social diary is all a bit much for one rookie: "I'm currently doing three to four socials a week with work. If anything it's too much!"
Taylor Wessing
Top-rated for tech, Taylor Wessing is also a hub for social activity, or at least according to a handful of Legal Cheek spies.
One source tells us there are "lots of social events with different areas of the firm e.g. LGBTQ, the Arts Club, sports teams and regular socials for trainees."
Taylor Wessing is indeed one of the City's more 'artsy' law firms, having sponsored the National Portrait Gallery's Photographic Portrait Prize for the 11th consecutive year. The Arts Club hosts regular lunchtime talks and offers free admission to all exhibitions at the National Portrait Gallery.
It's a scene that Taylor Wessing rookies are introduced to early in their careers, with future trainees reportedly receiving invites to the firm's exclusive social shindigs.
Travers Smith
Travers Smith scored an impressive sweep of A*s in this year's survey, including top marks for social life.
Location must have aided its score. The City law firm is situated in London's EC1 area, allowing its lawyers to take full advantage of the wide array of nearby shops, restaurants, pubs and clubs after a hard day's work. The Bishops Finger, for example, is a popular haunt among Travers lawyers and is a short walk from the firm's Farringdon premises.
Bonds are further deepened through a recent office dress down policy in favour of a "business casual" approach and regular social events, including visits to Shakespeare's Globe and "decathlon days out".
Walker Morris
Another firm praised for its vibrant social life in our survey is Leeds' Walker Morris. "We work hard and we really do play harder," shares one Legal Cheek mole. Oo-er.
The A* social life at the firm has quite a reputation. "I have no doubt our social committee is the best around," one trainee tells us, while another notes: "We're very social and often organising a variety of events for either the whole firm, or within departments. Everyone is very friendly, so it is easy to get along and we enjoy spending time together outside of the office."
Indeed, they do. The corporate player hosts charity events such as quizzes, rounders and dress down days. Plus we hear there's "decent budgets behind the bars". We're pretty sure we'd spot trainees and associates bonding over after-work drinks at the many trendy bars just a stone's throw away from the firm's central location.
Wedlake Bell
Wedlake Bell's lawyers have nothing but good to say about the firm's social scene. Overall, feedback from respondents was very positive, with one rookie reporting: "I was surprised by how much socialising is encouraged by the firm. The social scene is very inclusive and there is something going on every week."
The London player is tucked up nicely between Blackfriars and Cannon Street Tube stations on busy Queen Victoria Street. You'll find a handful of juniors occasionally lunching together on the steps of nearby St Paul's Cathedral, and as day turns to dusk, many will take to the plethora of City bars and pubs on the commercial outfit's doorstep.
The firm with the best social life for trainees and junior lawyers will be announced at the Legal Cheek Awards 2019 on March 21 at the Cheesegrater in London.
Peruse all of the firm's new 2018-19 survey scorecards — including training, quality of work, perks and much more — via the Legal Cheek Firms Most List 2018-19.