Khadija Siddiqi is now studying the BPTC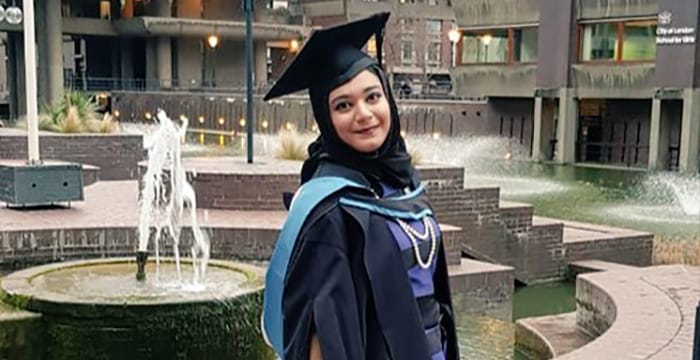 A law student who was left fighting for her life after she was stabbed 23 times by her ex-boyfriend has graduated with a 2:1 from the University of London.
Khadija Siddiqi, 24, was in the second year of her LLB (distance learning) when she was ambushed by her former partner, Shah Hussain, as she collected her six-year-old sister from school in 2016. The brutal knifing, which took place in Pakistan, left the law student with serious injuries to her throat, abdomen and arms.
However, determined to pursue her lawyer dream, Siddiqi went on to recover, complete her degree, and last week officially graduate with a 2:1 in law.
They plan, and Allah plans. Surely, he is the best of planners.
Alhumdulilah Graduation! ❤️@UoLondon pic.twitter.com/Nwiu71FEg2

— khadija siddiqi (@khadeeeej751) March 6, 2019
Siddiqi, who now lives in Islington, north London, told the Evening Standard: "It's been such a long and tiring journey, but I finally have my degree. I feel great." Now studying the Bar Professional Training Course (BPTC) at City Law School, Siddiqi continued:
"I want to pursue human rights and criminal law. That's what I've been struggling for over the past three years and it's made me adamant and motivated to go into this field. The attack gave me the direction to lead and become a voice for others. I'm hoping I can go to Cambridge for my master's in criminal and human rights law."
Hussain, also 24, was sentenced to seven years in prison for the attack. The decision, however, was later overturned by the High Court in Pakistan, following claims by Hussain's legal team that it had been Siddiqi who had pursued him, and that she wanted the case to become "high profile".
In response to the court's decision, aspiring lawyer Siddiqi launched a social media campaign which, in turn, triggered a country-wide debate on violence against women. And it worked. Earlier this year, the Supreme Court in Pakistan overturned the High Court's ruling and Hussain was jailed for five years.
Siddiqi, who hopes to one day return to Pakistan to practice law, added: "I feel it's my responsibility to help women and give them a voice."
Comments on this article are now closed.