Jones Day faces £150 million sex discrimination claim over 'fraternity culture'
Six female former associates launch group action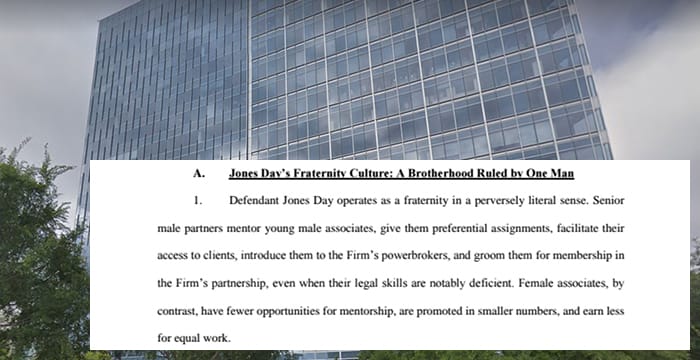 US titan Jones Day has found itself facing a multi-million-pound legal claim after six female former associates accused it of sex discrimination, court papers reveal.
In their group action, filed in the US District Court for the District of Columbia, the six lawyers allege that their former firm's "black box" compensation model is used to pay female partners less than their male counterparts. Moreover, the women claim that the best work goes to the firm's male lawyers and that they are paid better and promoted more often "even when their legal skills are notably deficient".
The action is being brought by Nilab Rahyar Tolton and Andrea Mazingo, who were both based in Jones Day's office in Irvine, California (pictured top), until last year, along with four other unnamed women. The claim seeks $200 million (£150 million) in damages.
"Jones Day's fraternity culture presents female attorneys at Jones Day with an unpalatable choice", the explosive claim reads. "Participate in a culture that is at best inhospitable to women and at worst openly misogynistic or forego any hope of success at the firm."

It goes on to allege that for a female associate to succeed at the firm, "she must at least tolerate the stereotyped expectations of the firm's male power brokers. To challenge these expectations by word or deed, even in settings ostensibly provided for 'honest' feedback, is career suicide."
The complaint describes how at one unidentified office, "male partners allegedly kick off the firm's holiday party by encouraging drinking in the office, followed by alcohol-fuelled dancing, during which male managers 'gawk' at dancing female associates for amusement", Law.com reports. In another alleged incident, a male summer associate was "applauded and high-fived" by senior members of staff after he pushed a female summer associate into a swimming pool during a party held at a partner's home.
In a lengthy statement, Jones Day, which has 43 offices around the world, including London, said it was "proud of its success in promoting a diverse group of outstanding lawyers." It continued:
"Our partnership includes approximately 240 women, many of whom have become leaders in the firm and the legal profession. The success of Jones Day's women lawyers has been supported by our inclusive culture that rewards talent, teamwork, integrity, and mutual commitment to our clients and the firm."
You can read the statement in full here.
Comments on this article are now closed.