Pictured with torts textbook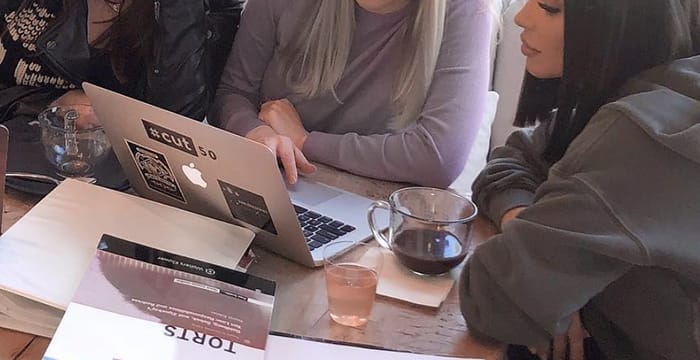 Hot on the heels of her recent revelation that she is studying to become a lawyer; social media superstar and business mogul Kim Kardashian has now taken to Instagram to defend her unusual career move.
Revealing the news in May's issue of fashion bible Vogue, the 38-year-old socialite confirmed she had begun a four-year legal apprenticeship with an unnamed law firm in San Fran last summer, with a view to sitting the California bar exam in 2022.
Like with most moves the reality TV queen makes, her decision to pursue law did not go unnoticed and sparked a comments storm online. "While I wish Ms Kardashian well, I highly doubt she will pass the bar," expressed one Legal Cheek critic at the time.

Pictured alongside her two attorney mentors Jessica Jackson and Erin Haney (below), and surrounded by paperwork and a tort law textbook, the Keeping up with the Kardashians star responded to her haters in an Insta post on Monday. She wrote:
"I've seen some comments from people who are saying it's my privilege or my money that got me here, but that's not the case. One person actually said I should 'stay in my lane'. I want people to understand that there is nothing that should limit your pursuit of your dreams, and the accomplishment of new goals. You can create your own lanes, just as I am."
Studying law is no mean feat, especially when you're Kim K. The KKW Beauty businesswoman will be studying a minimum of 18-hours per week for the next four years and will take written and multiple-choice tests monthly. This week she has a "big torts essay due on negligence". The mother-of-three (soon to be four) went on to explain how she is juggling her multiple commitments:
"My weekends are spent away from my kids while I read and study. I work all day, put my kids to bed and spend my nights studying… I changed my number last year and disconnected from everyone because I have made this strict commitment to follow a dream of mine."
Despite not possessing a university degree, Kardashian's path into law is possible because California is one of a number of US states that allow aspiring lawyers to sit their final bar exams without a law degree. "The state bar doesn't care who you are," explained Kardashian. "This option is available to anyone who's (sic) state allows it… You need 60 college credits (I had 75) to take part in 'reading the law'… For anyone assuming this is the easy way out, it's not."
Kardashian's law school ambitions haven't materialised out of thin air. News of Kimmie's fledgling legal career comes almost a year after she met with President Donald Trump at the White House to discuss reforms to the US prison system, while her late father, Robert Kardashian, was a US defence lawyer who famously worked on OJ Simpson's murder trial.