Bar hopeful Tristan Greene victorious in BPP-backed comp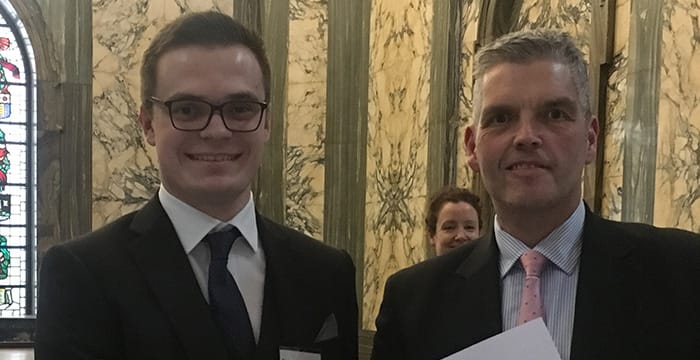 A history student at King's College London (KCL) has seen off competition from some of the country's top wannabe lawyers to be crowned 2019 'Advocate of the Year'.
The annual advocacy showdown run by BPP University Law School (BPP) saw 96 undergrads from 25 of the UK's top universities do battle in a series of regional heats, with 12 eventually making it through to the final held on the 23 March at London's historic Old Bailey.
The universities represented in the final were: Birmingham University, BPP, Cambridge University, Cardiff University, KCL, University of Manchester, Newcastle University, University of Oxford, University of Reading, Swansea University and the University of Warwick, with only Newcastle having more than one finalist.
For the final, students were split into groups of two for a mock criminal trial in the morning and a mock civil trial in the afternoon. If the competition wasn't already nerve-racking enough, the sessions took place in the Old Bailey's imposing courtrooms with professional actors playing the roles of the witnesses.

Tristan Greene, who studies history at KCL, eventually secured first place and a £6,000 scholarship towards his Bar Professional Training Course (BPTC) at BPP. Reflecting on his victory, Greene said:
"I am absolutely delighted to win the BPP Advocate of the Year competition, it was a privilege to get to perform advocacy in the Old Bailey, this experience brought the trials to life, and made it all feel very real, as did the wonderful actors and actresses. The hugely generous scholarship will go a long way in helping me fund the BPTC, and I'm looking forward to continuing my advocacy development during my BPTC year. I am extremely grateful to BPP for running such a fantastic competition, which was very well organised, and enormously good fun to compete in."
With the standard of advocacy particularly high this year, the judging panel was unable to select a single second place and, as a result dished out three runner-up prizes of £3,000 BPTC scholarships. These went to Hattie Stacey (Cambridge), Alastair Bloor (Newcastle) and Timothy Foot (Oxford).
Commenting on this year's competition, Andrew Chadwick, dean of BPP Law School, said:
"We were blown away by the guile and pedigree of talent during the trials, and its testament to the individuals who competed was that we couldn't identify a clear runner-up. The only thing, and the right thing to do, was to recognise the quality of the runners-up by awarding three second place prizes. Based on what we've seen I'm confident they will enjoy studying with us and probably go on to secure pupillage."