Package includes court naming rights and judges' robe sponsorship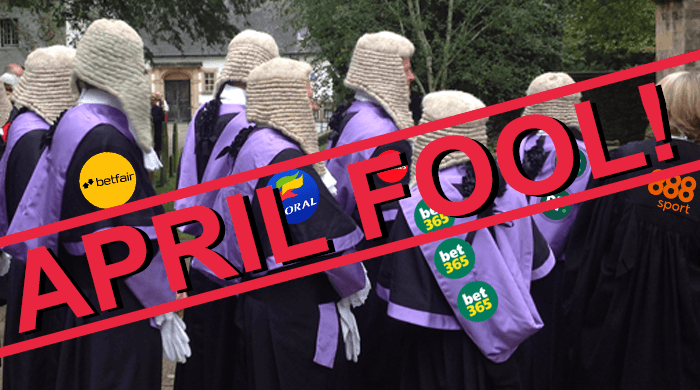 The Ministry of Justice (MoJ) has created history this morning by unveiling a historic sponsorship deal with a host of leading online betting firms.
The tie-up will net the government millions of pounds of revenue which it says will be used to help fill the legal aid funding gap.
The deal features a consortium of betting and gaming companies. Under its terms, up to 50 courts across England and Wales will be renamed to incorporate the companies' names — including the Royal Courts of Justice, which will be known as the Royal Bet365 Courts of Justice from April 1 2020.
Meanwhile, judges' robes will be branded with the betting companies' logos. It is understood that Paddy Power has secured sponsorship of the Supreme Court justices' robes.
As part of the package, members of the public will be able to bet on the outcome of cases in real time. They will also be able to make side bets; for example, on the colour of judges' socks.
Toasting the partnership, a spokesperson from the MoJ said:
"This is an example of the MoJ embracing innovation to generate income which will boost access to justice for the many. At the same time, let's face it, court cases can be so boring and having a flutter is a great way to get punters interested. Are you telling me anyone would bother to watch horse racing if there wasn't money riding on the outcome, so to speak?"
The spokesperson added that views on the Supreme Court's YouTube channel were currently "disappointing" and that the online betting deal would be a great way to boost traffic levels — which in turn would bring in further much needed revenue to the public coffers.
"To be an influencer you need eyeballs, and then the big bucks start rolling in. To be honest, we're not there yet. I'm confident that this deal will change that moving forward."