Legal Sector Workers United wants trainees and pupils to help fight oppression and inequality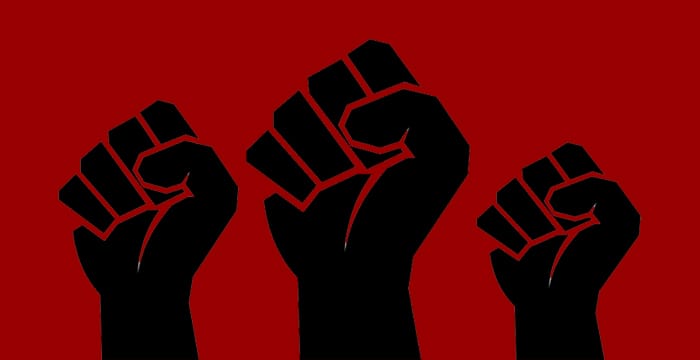 Junior lawyers of the world, unite: a new trade union branch for legal sector workers has been launched and wants solicitors and barristers in training to sign up.
Legal Sector Workers United (LSWU) says that it aims to bring interns, trainee solicitors and pupil barristers into a workers' alliance with support staff such as cleaners and security guards.
The new organisation was launched yesterday by trade union United Voices of the World (UVW). It has been representing Ministry of Justice cleaners locked in a wage dispute with the outsourcing firm that employs them, but is now trying to bring legally qualified workers into the fold.
UVW says that the legal sector is in "dire need of greater unity" to improve working conditions, adding that "strategic action is required to reduce exploitation and oppression".
LWSU is open to anyone working in the legal sector, including practising solicitors and barristers. The only proviso is that members can't have "the power to hire or fire", so there's no risk of running into the managing partner on the picket line.

The union says that the legal sector is "riddled with poverty pay and huge wage inequality", pointing out that "paralegals often do not even earn the real London Living Wage of £10.55 per hour, yet equity partners in the same firms can take home over £2 million per year".
In a pitch to overworked trainees — like those we exclusively revealed were asked by their firm to pull an all-nighter or have a damn good reason why not — the new grouping says that "junior legal workers are subject to enormous pressure from multiple sources. Too often this results in high workloads, low salaries and inadequate support".
LSWU also has its eye on the notoriously underpaid junior criminal bar. It cites the £46.50 flat fee sometimes paid for a day in court — which works out as less than the going rate for flipping burgers at Maccy Ds.
Lucie Wibberley, a criminal defence barrister at Garden Court Chambers, said that LSWU "signifies a turning point in the politics of legal provision and a step towards a brighter future". Veteran silks John Hendy and Michael Mansfield are also backing the new organisation.