Mary Bonsor, co-founder and CEO of F-LEX, chats to Legal Cheek ahead of her appearance at the Future of Legal Education and Training Conference 2019 on 22 May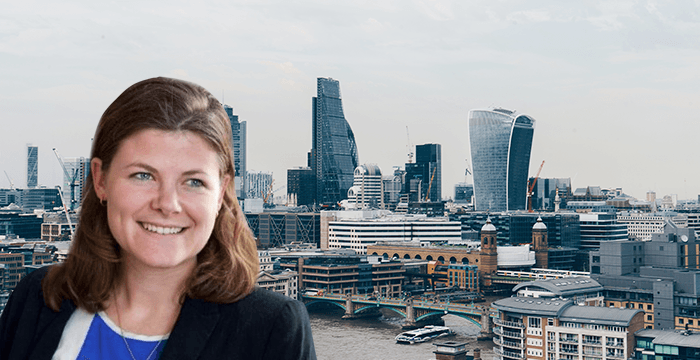 The gig economy is forcing industries to rethink how they deliver its services — and the legal profession is no exception. Leading such change is F-LEX, an online platform connecting law students with law firms and in-house teams for short-term paralegal placements.
How does it work? All a firm needs to do is list their requirements (such as location, availability or additional skills, including languages) and F-LEX then use software to quickly find and match paralegals meeting these criteria. Once booked, paralegals are sent to work, where tasks can range from basic contract review to preparing bundles and attending court.
The idea first came to Mary Bonsor, the co-founder and CEO of F-LEX, while she was practising as a property litigator at Winckworth Sherwood, whose London office happens to look out onto a law school. During the peaks of her workload, Bonsor recalls seeing law students pass her window and thinking: why couldn't she seek help from these aspiring lawyers who, although eager to hit the ground running, often struggle to find paid legal work experience to fit around their studies? "The core idea was to use tech to make it super-efficient for firms to get in contact with good law students — and vice versa," explains Bonsor.
At first, this tech was simply Google Sheets, a free online spreadsheet programme. "I put together a spreadsheet of law students and approached a law firm, asking them to let me know if they needed any paralegals. I managed to place five people in that firm for two weeks," says Bonsor.
With the help of co-founders Jimmy Vestbirk, founder of Legal Geek, and software entrepreneur, James Moore, Bonsor secured funding through angel investor and ex-managing partner of Clifford Chance, Tony Williams. It was at this point Bonsor left legal practice to become a full-time entrepreneur. On making the switch, Bonsor says:
"I absolutely loved being a lawyer and really enjoyed the area in which I practised, but I wouldn't look back. Setting up your own business is a complete rollercoaster. You really feel the highs when it's your own thing — and you really feel the lows a lot more too."
Almost three years on, F-LEX has recruited over 2,500 on-demand paralegals and, after their latest round of fundraising, is set to expand across the UK — adding the South West and Scotland to its list of existing hubs in London, Manchester, Cambridge and Birmingham.

Key to F-LEX's growth has been maintaining a reputation for trustworthy service, which largely depends on the calibre of paralegals on offer. "The quality of our paralegals is paramount, because if they're unreliable, no one would use us again," stresses Bonsor. Before they become paralegals, all law students and graduates are assessed on their academic achievements, relevant experience, preference of practice area and level of skill. Bonsor continues:
"F-LEX is run by experienced lawyers so we understand the level of difficulty of potential work that needs to be done. Drafting up a shareholder agreement may be too hard for some paralegals, but not for others, so it is all about understanding what our candidates feel comfortable doing."
Having this expertise on hand, the ability to understand the standards law firms and in-house lawyers require, enables pre-vetted paralegals to be matched with clients quickly and easily — something which traditional placement agencies often struggle with.
The desire for greater flexibility in the legal profession is not just limited to paralegals — it can also be seen in changes to how lawyers are trained, Bonsor argues. She points to the Solicitors' Qualifying Examination (SQE), which is set to replace the Legal Practice Course (LPC) and the Graduate Diploma in Law (GDL) when it comes into force in September 2021 — something which Bonsor will discuss during the Future of Legal Education and Training Conference 2019 on 22 May. Under the new guidelines, students can complete the two years qualifying work experience with up to four different legal employers; offering greater freedom when choosing the areas they specialise in. Work completed as F-LEX, for example, will count towards their SQE qualification. "It puts the power to law students to build their own training contract," says Bonsor.
Greater demand for flexibility can also be seen in the mounting support for the gig economy among lawyers. F-LEX, for example, has recently expanded its services to include on-demand junior lawyers. In light of the recent findings by the Junior Lawyers Division, which found that 94% of survey respondents reported feeling stressed in their role and with almost a quarter of those individuals being severely to extremely stressed, the gig economy offers a viable solution. For example, self-employed lawyers can have greater control over the way they work — which may allow for a healthier work/life balance. "Some lawyers may not want to move around and prefer to stay and train in one firm, but a large proportion of lawyers have chosen to stay put when they potentially don't want to," she adds.
One factor which may go some way in explaining why lawyers are hesitant to switch to flexible working is the uncertainty around leaving the traditional law firm set-up. This cautious mentality, typical of the legal profession, is something that Bonsor soon unlearned as she settled into her new role as a legal entrepreneur. She explains:
"As a lawyer, you have to be very risk averse and so you end up fearing failure. But in a start-up, failing is something you become used to. As a technologist, you build something and if it doesn't work then you move onto the next thing."
For example, F-LEX was initially designed with the independent contractor model in mind, which would see paralegals classed as being self-employed. But the business quickly steered away from this model as law firms wanted to avoid any employment risk. F-LEX paralegals are now classed as employed workers, meaning they are paid a competitive hourly rate (above the living wage), that goes up when working past 6:30pm, and are also entitled to basic employment rights — including retention, holiday and sick pay. Having such precautions in place is vital to prevent exploitation in the gig economy. On this Bonsor explains: " It is so competitive for law students at the early stages of their career, so it's important that as employers we take responsibility as much as we can."
Mary Bonsor will be speaking during the morning session, 'Embedding entrepreneurship into legal education and training', at the Future of Legal Education and Training Conference 2019 on Wednesday 22 May at Kings Place London. General release tickets are available to purchase.