Attorney General among star-studded ceremony line-up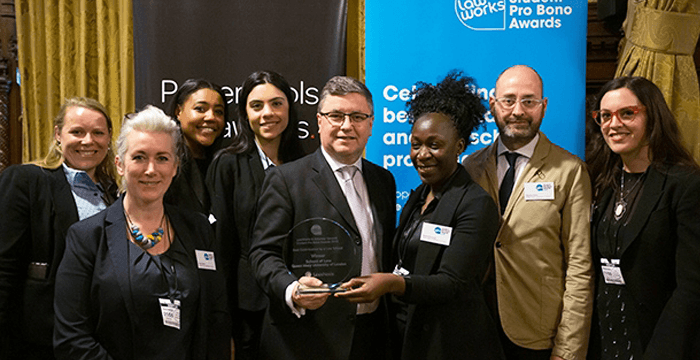 A range of pro bono legal advice projects headed up by university law students were among the winners at this year's LawWorks and Attorney General Student Pro Bono Awards.
The 13th annual awards ceremony took place on Wednesday at the House of Commons' Members' Dining Room and was hosted by High Court judge, Sir Robin Knowles CBE, with Attorney General, Geoffrey Cox QC MP, and Solicitor General, Robert Buckland QC MP, dishing out the gongs.
Receiving recognition was King's College London law student and volunteer veteran, Giulia Mazzu, who picked up the award for Best Contribution by an Individual Student. In addition to her involvement with the university's legal clinic, Mazzu volunteers as a caseworker for the Freedom Law Clinic, works as a legal researcher for Action4Justice and has interned at Kenyan anti-trafficking NGO, Stahili Foundation.
Joining Mazzu on the winner's roster were two Swansea University students, Isabel Francis and Tahmid Miah, who took home Best Contribution by a Team of Students. Between them, the prize-winning pair contributed over 750 hours to the university's law clinic, drafting initial legal advice letters and assisting litigants in person. The duo even gave up their time over the summer break to keep the clinic open to the public when most university-based law clinics close.
Also triumphant were law students from the Open University Law School, taking home the prize for Best Legal Tech Contribution. These 50 students were praised for their Open Justice Law Clinic, a 'virtual' clinic that allows them, under the supervision of qualified solicitors, to deliver free legal advice to clients over the web.

Meanwhile, University of Liverpool law students collected the prize for Best New Student Pro Bono Activity. Working with humanitarian organisation, the British Red Cross, these 16 student caseworkers offer support to victims of trafficking while they apply for appropriate care under the National Referral Mechanism.
Also given the thumbs up were law school-led initiatives. Scooping up the gong for Best Contribution by a Law School was Queen Mary, University of London, whose East London-based legal advice centre has seen around 300 law undergrads offer free supervised legal advice to 350 clients a year. Standing out in their categories was the University of Plymouth, whose pro bono Street Law Clinic earned them the Access to Justice Foundation Award; and Liverpool John Moores University who was declared the winner of this year's LawWorks and Advocate law school fundraising challenge.
According to LawWorks — an organisation connecting volunteer lawyers with the people that need them, particularly those ineligible for legal aid — almost half of the 240 clinics in their network are based in law schools. In the past year, these clinics have reportedly dealt with over 19,000 enquiries, providing advice in areas including family, welfare benefits, employment, housing and small claims.
Speaking on the importance of such initiatives, Cox said:
"Pro bono is part of being a lawyer — it not only has a practical and beneficial impact on people's lives and access to justice, but also supports the rule of law. Early experience of pro bono can instil a passion and commitment that can last a whole career. I wholeheartedly congratulate the winners on their achievement."