If you don't snap your studies, are you even revising?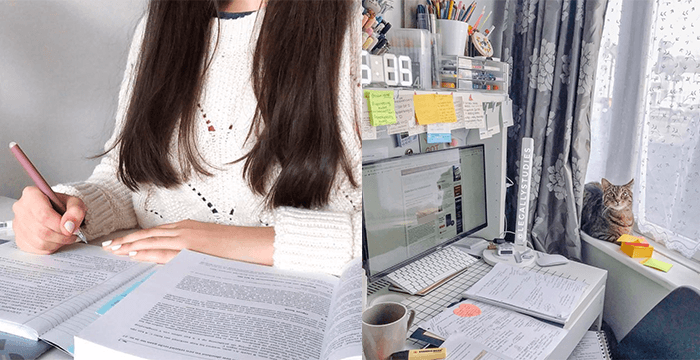 Exam season, or better known as 'cram season', is upon us. For law students, tasked with the monotonous process of committing cases and statutes to memory, it's a dull time to say the least.
To brighten up your study sesh, Legal Cheek has selected its favourite legally minded edu-influencers using Instagram to share their study secrets with the masses.
Leading the way is mysterious life hack law student turned social media influencer, WaysToStudy, who boasts 231,000 Insta-followers and just over 437,000 subscribers on YouTube. Shrouded in secrecy, this anonymous Instagrammer, who goes by the name 'Rose', hides her true identity to prevent jeopardising her future legal career. But, clearly following the superhero mantra, 'with great power, comes great responsibility', Rose (see below) uses her platform to share her revision routine, productivity tips and her aesthetically pleasing study snaps to help and inspire other law students.
Also going for the chic study set up is popular Instagrammer legallystudies, who appears to champion the work-from-home tactic (see below). In addition to sharing snaps of her eye-catching revision dōjō with her 70,000 insta-followers, this study sensei makes use of Instagram's highlights feature to offer her top revision tips for law.
Next up is studylawwithme, who according to her bio, is a first year law student chasing a TC. As seen from the post below, this Instagrammer shows us the importance of timekeeping, organisation and that there's no such thing as too much highlighter.
For law students committed to the cram, leaving the 'open 24/7' library is a luxury to be enjoyed only by the exam-less. But as Instagrammer, studylikealawstudent, shows us in the snap below, sunlight and revision can go hand in hand.
But for those of you reluctant to indulge Mother Nature's green gifts for fear of distraction, as shown by law.lavender below, you can always bring the garden — or at least a green plant — to your study space.
When the stress has left you surviving on a diet of sugary snacks, coffee and Pro-Plus caffeine pills, it can be easy to say 'no' to decent nutrition. But why not get creative in how you fuel up? Setting the example is Instagrammer lucydoeslaw who shows off her smart snacking with her tastebud tingling banana and peanut butter canapés.
There may be points during the peaks of your revision related despair that you're ready to give it all up — who needs a law degree anyway, am I right? Wrong, you can do this! Believe in yourself! You're nearly there! But if I, the Legal Cheek journo contributing to your procrastination cannot help you cross that finish line, perhaps follow on from lawstudyblog's use of inspirational quotes.
Comments on this article are now closed.