Members of the cast took to Twitter on May Day Bank Holiday to share their support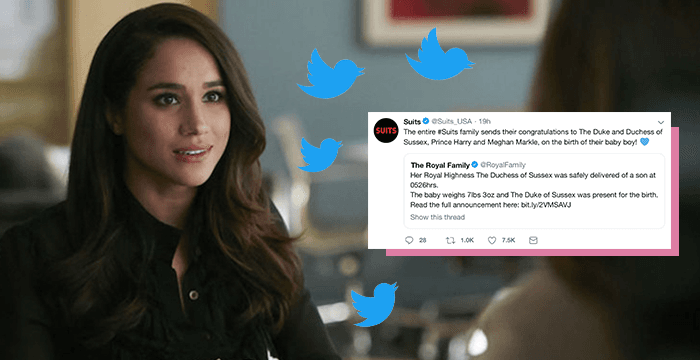 Twitter erupted in a wave of baby-fever yesterday as Prince Harry and Meghan Markle announced the birth of their firstborn son.
Among the well-wishers were cast members of hit US legal drama, Suits, who tweeted their congratulations to Markle, who previously played the sassy paralegal-turned-lawyer Rachel Zane in the series before she wed Harry and became the Duchess of Sussex.
Offering his congratulations was Patrick Adams, who plays the show's lead character and Markle's on-screen husband, Mike Ross. The Canadian actor sent "much love" to the newborn tot and his "incredible parents", before adding a cheeky hashtag, '#playdatesoon', hinting at a potential play date between their children. Adams, who became a first-time father last year, went on to describe that he learnt "first hand" the transformational process of becoming a parent and "couldn't be happier" for the Royal couple to "begin this adventure".
Just heard that the world just got heavier by 7 pounds and 3 ounces. Much love to him and his incredible parents. Learned first hand 7 months ago how transformational becoming a parent is and couldn't be happier for Meghan and Harry as they begin this adventure. #playdatesoon

— Patrick J Adams (@halfadams) May 6, 2019
Sarah Rafferty, who plays Donna Paulsen, former executive assistant to one of the show's leads, Harvey Spector, and office mastermind at fictional law firm Zane Specter Litt, tweeted from across the pond: "Hearts are leaping for a beautiful, wondrous and healthy baby boy!"
Hearts are leaping for a beautiful, wondrous and healthy baby boy! Sending much love and wishes for every blessing across the pond today and everyday! ❤️

— Sarah Rafferty (@sarahgrafferty) May 6, 2019
Also chipping in was Wendell Pierce, who portrays Markle's on-screen dad, Robert Zane. The American actor, who is currently performing in the London West End show, Death of a Salesman, took to Twitter earlier last month to offer his blessings to Markle ahead of her due date. Sharing the same picture of London's Tower Bridge as before, Pierce congratulated the Royal pair on their baby boy, and tweeted a "God Bless".
Congratulations to the Prince & Duchess with their new baby boy! God Bless. pic.twitter.com/Rb5pqdEtHZ

— Wendell Pierce (@WendellPierce) May 6, 2019
For cast members who didn't get around to sharing their congratulations, the show's official Twitter account tweeted on behalf of the "entire #Suits family":
The entire #Suits family sends their congratulations to The Duke and Duchess of Sussex, Prince Harry and Meghan Markle, on the birth of their baby boy! ? https://t.co/tayfmGEm8Y

— Suits (@Suits_USA) May 6, 2019

The Suits cast weren't the only legally-minded individuals to offer their congratulations. Former lawyer and White House alumni Michelle Obama took to Twitter to reveal how thrilled her husband, Barack Obama, and herself were at the arrival of the newborn, with the former first lady adding "can't wait to meet him".
Congratulations, Meghan and Harry! Barack and I are so thrilled for both of you and can't wait to meet him. #RoyalBaby https://t.co/mfE7uc6ooV

— Michelle Obama (@MichelleObama) May 6, 2019
This isn't the first time the Suits cast have rallied behind their former co-star. Last year saw the show's lead characters attend Markle's Royal Wedding in Windsor.