St Edmund's College working with alumni to help bar hopeful hit target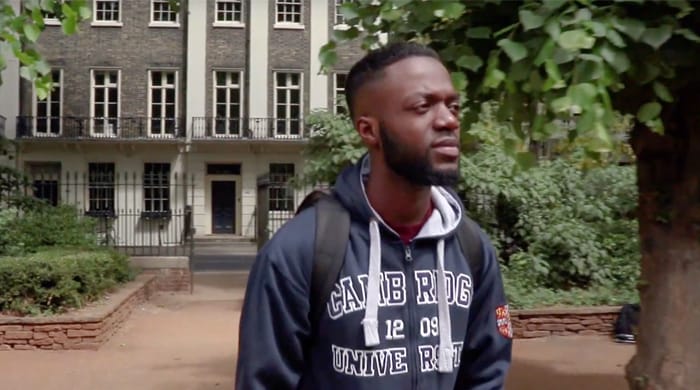 A wannabe barrister has launched an ambitious crowdfunding campaign in a bid to help cover the cost of his legal studies at the University of Cambridge.
Dylan Kawende, who currently studies history and philosophy of science at the University College London (UCL), has successfully secured a place on the two-year Law with Senior Status (SSL) course at Cambridge's St Edmund's College.
Taking to his Crowdfunding page, the 22-year-old explains that the scholarships on offer through the Inns of Court aren't enough to cover the full cost, while the ones available at Cambridge remain out of reach until he's registered as a student in October — by which point, he says, "it'll be too late".
Undeterred, Kawende now hopes the generosity of others will help him realise his barrister dream. Using the hashtag, #GetDyl2Cambridge, Kawende hopes to raise £66,000 in just eight weeks to cover his course fees and living costs. He has received just over £7,800 in donations so far.
Kawende, the British-born son of two Rwandan genocide refugees who emigrated to the UK, cites the mishandling of the highly publicised Stephen Lawrence case as the inspiration for pursuing a career at the bar. In 1993, Lawrence, a black teenager, was stabbed to death in an unprovoked attack by a gang of white youths in south east London.
On why he wants to become a barrister, as opposed to solicitor, Kawende tells us: "The bar offers a greater emphasis on advocacy and legal analysis from an early stage. I also like the challenge of being self-employed."
Since Kawende's appeal has gained traction, St Edmund's College has announced that they are "hoping to work with [their] alumni to do what we can to support him", but encourages all to donate in the meantime.
You may have seen future law student Dylan featured in the Times with a crowdfunder to come to St Edmund's. We are hoping to work with our alumni to do what we can to support him. But in the meantime, you can donate (and learn more about him) here: https://t.co/WCd5MliODD pic.twitter.com/gf1iJcjokR

— St Edmund's College, Cambridge (@StEdmundsCam) June 10, 2019
Comments on this article are now closed.