New Guardian rankings expose universities' vulnerabilities, argues expert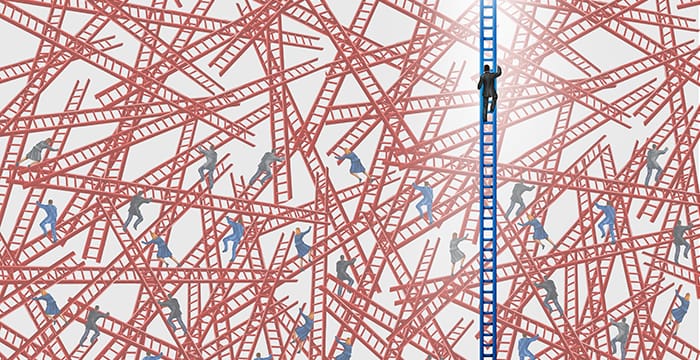 The Guardian University Guide published on Saturday confirms some interesting and worrying trends in the progression of law schools. Whether or not it jolts those schools at the bottom end of such trends out of their complacency and self — satisfied attitudes, is another matter.
What distinguishes this guide from the others is its focus on all the factors that are most important to students (and one assumes potential employers): how much they will benefit from the teaching, whether current students are satisfied with the course and what their chances are of getting a job. This guide also measures resources invested in the students and support provided for students requiring additional learning support.
At a time when there is a real need to prepare students better for the challenges of the future, and enhance diversity, the headline trends are not good news. Even more worrying are the appalling performances of the large provincial Russell Group universities (with notable exceptions at Leeds and York) which are the bedrock of the recruitment strategy for most of the top 100 firms. Given the focus of the guide, one would assume that the 'new universities', with their origins and heritage on teaching and learning would flourish. Not that long ago such institutions dominated innovative legal education but now languish in 'no man's land': City (95); Manchester Met (75); Northumbria (35); Nottingham Trent (34); Oxford Brookes (69); UWE (61). South Bank are one of the few that have retained their focus on teaching and student engagement hence stand out like a beacon (11) lodged either side of LSE and Kings.
Two other factors are worth noting: in some instances, the host university considerably outperforms its law school, for example Birmingham University is ranked 16th but the law school 37th, similarly, Nottingham Trent 12th and 34th respectively. What is much more interesting is that of the top ten institutions four of them don't have law schools. These points raise the question, are huge law schools becoming a hindrance to their university, with their failure to address structural changes in the curriculum and complete lack of awareness of how the world legal is changing? The situation can only deteriorate further as the new Office for Students (OfS) regulator gathers momentum, given its statutory duty to deliver value for money and the consumerist agenda that it has set itself.
It's not by any means all the fault of the schools. For years vice chancellors have been using law schools as 'cash cows' with precious little investment in return. There is too much focus on generating revenue with too little innovative thinking about the future of legal education. There are pockets of innovation (for example in legal technology and pro-bono clinics) but for the most part these developments are not integrated into the curriculum. As the dean of Bristol Law School recently commented at the Legal Cheek conference in the context of Solicitors Qualifying Examination (SQE) 1, 'we'll tweak around the edges'.
It may not be their fault but is it too late for large law schools whatever their heritage? Those law schools that consistently occupy the top 12 places do so for a range of reasons. At Oxbridge, the college system plays a massive role in student satisfaction and, in common with Kings, LSE and UCL, they have not increased LLB numbers to the same extent as provincial schools. Additional revenue funding is derived from overseas student income (particularly postgraduate) which is largely unregulated. As in the case of law firms, one of the reasons why some schools perform better is down to good management and leadership.
There are two notable absentees from the league tables, that of BPP Law School and The University of Law. One can only assume that the tables are confined to public bodies but given the fact that they are both regulated by the OfS there is no logical reason why they shouldn't be invited to share their data on these matters. They should perform very well: they both have similar teaching models to the public sector but they don't have the distraction of having to deliver to a research agenda.
What of the future? The pressures are building up. There are signs that some of the overseas jurisdictions are likely to embrace SQE 1 as a condition for recognition for students returning from study in the UK. In recent years, Singapore has been more proactive in removing underperforming Russell Group Law Schools from their "approved list", and it is likely that this process will continue. If they place conditions on such approval in terms of completing SQE 1 then some schools will have to do more than 'tweak' around the edges.
What has yet to emerge are any alternative law schools to the traditional model. For example, could we see a new model of law school — along the lines of Riverview and others who have delivered in terms of legal service platforms. It can only be a matter of time before that happens.
Mike Thomas is a pseudonym. The author is currently head of a law school.