Simon Arnold defies odds to secure pupillage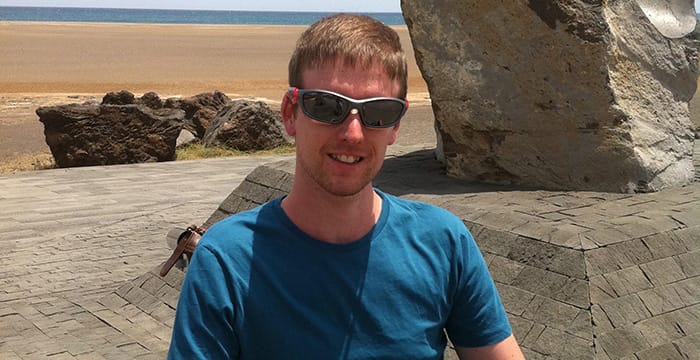 An Edge Hill University law graduate who was rendered tetraplegic following a shocking accident is set to realise his long-held dream of becoming a barrister after being offered a pupillage.
Simon Arnold, 36, was involved in a serious road traffic accident in 2006, which rendered him unable to walk with very limited use of his hands. Just a year on and after several months of intense rehabilitation, a determined Arnold set himself the career goal of qualifying as a barrister and enrolled on a law degree at Edge Hill University.
Defying the odds, Arnold moved a step closer to realising his bar dream on Friday when he was offered a pupillage at Exchange Chambers and Hilary Meredith Solicitors.
Arnold will spend the first six months with Exchange, one of the country's largest barristers' chambers with branches in Manchester, Leeds and Liverpool, before joining up with Hilary Meredith, a firm specialising in serious injury claims for military service personnel and veterans.
"I am absolutely thrilled to be starting a pupillage," barrister-to-be Arnold said. "It's been a long journey and there have been difficult times along the way but so many people have supported me. I want to make them all proud."
Arnold, from Warrington, Cheshire, completed the Bar Professional Training Course (BPTC) at Manchester Metropolitan University in 2012, having previously undertaken a masters in international law and human rights. He also secured funding to enable him to employ a personal assistant as well as equipment, particularly IT, to help him work.
He continued: "I am always careful not to assume that I automatically understand how a person with a serious injury feels. However, I do believe that I can relate to someone with a serious and catastrophic injury, and moreover have some idea of the processes and equipment that they might have to endure or require in the future."
Hilary Meredith, chair of Hilary Meredith Solicitors, added: "As a firm of solicitors, we don't ordinarily offer pupillages but Simon is a truly inspirational individual who has blown us away with his ability, determination and positive outlook."
Comments on this article are now closed.