Former City lawyer will reportedly hand in resignation on Wednesday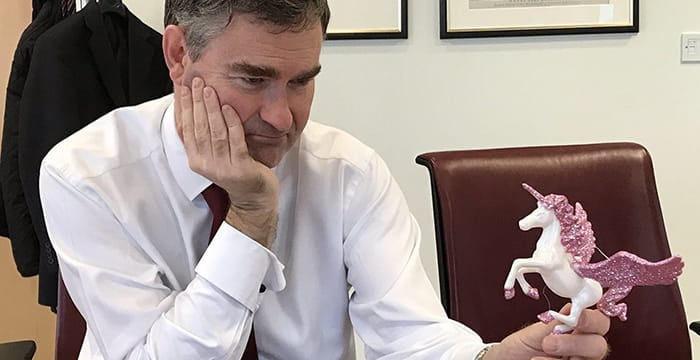 Lord Chancellor David Gauke has confirmed he will resign from the cabinet on Wednesday because he cannot serve under Boris Johnson if he wins the race to become prime minister.
The Justice Secretary, who took the top government legal post in January last year, said he could not sit on the frontbench while Johnson pursued a no deal Brexit. Johnson, who has pledged to pull Britain out of the bloc "do or die" come 31 October (the UK's rescheduled EU departure date), is expected to be confirmed as the new Tory leader tomorrow.
Gauke, a prominent no deal critic who has voiced his concerns that a departure as such would be a national "humiliation", told The Sunday Times he will stand down before May's successor takes over. "Given that I've been in the cabinet since Theresa May came to power, I think the appropriate thing is for me to resign to her," he said.
He added: "If the test of loyalty to stay in the cabinet is a commitment to support no deal on October 31 — which, to be fair to him, Boris has consistently said — then that's not something I'm prepared to sign up to."
The legal profession paid tribute to Gauke once news of his departure broke. Philip Marshall QC, joint head of chambers at family law set 1KBW, said: "If true, this is a great shame. David Gauke has been an excellent Lord Chancellor and Secretary of State for Justice. Sadly that now counts for nothing. It's all about Brexit. His principled opposition to no deal is to be applauded. Heaven only knows who his successor will be."
Meanwhile legal commentator Joshua Rozenberg bid farewell to Gauke, "friend of the judiciary", in a recent article anticipating his departure.
Gauke, who began his career as a trainee solicitor with Reed Smith before joining Macfarlanes and then making the move into politics, has been a well-liked Justice Secretary (not least for his use of amusing GIFs and self-deprecating humour!). He is perhaps most well-known for introducing the far-reaching 'no fault' divorce bill into parliament which has just passed its second reading in the House of Commons.
— David Gauke (@DavidGauke) July 9, 2019
Gauke took over from non-lawyer David Lidington whose six-month stint in the post (the shortest serving Lord Chancellor since the late 1980s) was even less time than his much-disliked predecessor Elizabeth Truss. Truss spent 11 months in the top job and was, of course, heavily criticised for her failure to defend judges against scathing tabloid headlines such as the notorious Daily Mail 'ENEMIES OF THE PEOPLE' one following the Article 50 High Court ruling in 2016.
The Lord Chancellor role has, historically, been a well-respected one filled exclusively by lawyers. In recent years we have seen numerous chancellorships in quick succession, leaving one Twitter user to quip: "One day, everyone will be Lord Chancellor for 15 minutes". It remains to be seen who Johnson (if he wins the leadership contest) will appoint as Justice Secretary, with former Linklaters lawyer Dominic Raab being tipped for the post.
Gauke — the MP for South West Hertfordshire since 2005 — voted Remain in the EU referendum. His resignation, along with several other key ministers keen to avoid a no deal scenario, has been dubbed the 'Gaukeward squad'. At 47, Gauke has signalled his intention to stay in politics and serve again once Brexit is settled.