Pride jubilee marked half-century since Stonewall uprising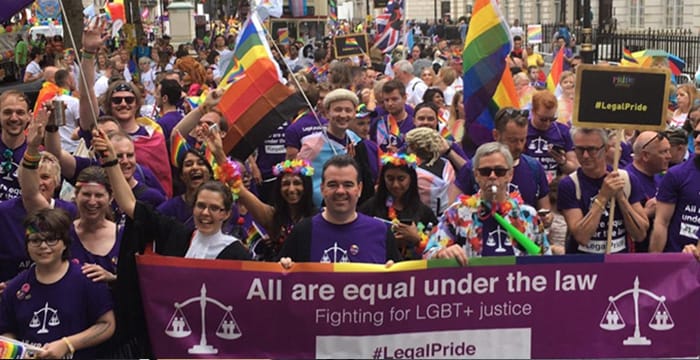 Lawyers were among the tens of thousands to take to the glitter-laden streets of London this weekend to march for lesbian, gay, bisexual and transgender plus (LGBT+) rights at this year's Pride parade.
Members of the legal profession painted the City all colours of the rainbow at the flagship London march on Saturday to mark 50 years since the Stonewall Uprising in New York — the notorious riots which helped kickstart the modern Pride movement.
Some have been sharing their social media snaps using the hashtag #LegalPride and we've rounded up the very best.
The chair of The Bar Council's Young Barristers' Committee, Athena Markides, joined treasurer Grant Warnsby under the banner 'All are equal under the law'.
Today's the day – Chair of our Young Barristers' Committee, Athena Markides, and our Treasurer Grant Warnsby march alongside @TheLawSociety and @CILExLawyers at #LegalPride today pic.twitter.com/QMHj4ibDi8

— The Bar Council (@thebarcouncil) July 6, 2019
Wigged and robed barristers representing diversity initiative FreeBar were among this year's parade-goers.
Happy pride from FreeBar! ?️‍? pic.twitter.com/xZIyrXzPwO

— FreeBarLGBT+ (@FreeBarLGBT) July 6, 2019
It was rainbow flags galore as the Inner Temple team took to the streets.
Marching about to start: #prideinlondon
is a chance to support work to defend #LGBTQ+ rights and recognise the #LGBTQ+ community's contribution to the legal sector. #legalpride #innertemplepride #prideinlondon #pridejubilee @thebarcouncil @TheLawSociety @CILExLawyers pic.twitter.com/UlhnYD20ET

— The Inner Temple (@TheInnerTemple) July 6, 2019
While the Solicitors Regulation Authority's (SRA) Pride bus made an appearance again.
Many marched wearing 'All are equal under the law' T-shirts.
It was high fives with the crowd for Hardwicke property silk Brie Stevens-Hoare QC. We wonder if she makes her court entrances this way!
@BrieQC enjoying the crowds at #Pride today ?️‍? pic.twitter.com/gWdyszqRbO

— Cameron Stocks (@CameronStocks_) July 6, 2019
Or perhaps this rather eye-catching bicycle could come handy?
So many ? #Pride marches to go to with @AmandaIlling and now we have worked out how ? pic.twitter.com/VwMo9WMeFy

— Brie QC (@BrieQC) July 2, 2019
Hardwicke barristers show their support to trans-inclusive gays and lesbians with colourful capes.
#legalpride @CameronStocks_ @BrieQC before the #LegalPride march pic.twitter.com/8wBsjsXQG9

— Gwyn Evans (@GwynforLaw) July 6, 2019
Is anyone else wondering how Tanfield Chambers barrister Gwyn Evans managed to fit a rainbow cowboy hat over that huge horsehair headdress?!
With @jade_irwin on Regent Street at #LondonPride #LegalPride #DiverseChurch @Diverse_Church pic.twitter.com/TmQB8r7Qb9

— Gwyn Evans (@GwynforLaw) July 6, 2019
It looks like the children of barristers at family law set Coram Chambers joined in on the action too. We're loving those rainbow fairy wings!
Coram kids at Pride #legalpride #prideatlondon pic.twitter.com/HZ2Tezr5xR

— Coram Chambers (@CoramFamilyLaw) July 6, 2019
Red Lion Chambers pupil barrister Georgie Lassoff applies the finishing touches to her sparkly get-up ✨.
@RedLionChambers Georgia getting glittered up and ready for #LegalPride pic.twitter.com/Clb1kAH3ih

— Brie QC (@BrieQC) July 6, 2019
While others sported glitter beards.
CILEx displayed some 'legal cheek'!
CILEx Proud to be at Pride#LegalPride #Allequalunderthelaw pic.twitter.com/oT93u7KnGx

— CILEx (@CILExLawyers) July 6, 2019
A colourful array of legal textbooks makes for a very aesthetically pleasing snap.
Happy Pride from the Inner Temple Library 😀 #pride #legalpride pic.twitter.com/ufAL6gaxeq

— Inner Temple Library (@inner_temple) July 5, 2019
It was rainbow cups and sarongs for one Legal Pride first-timer.
And a colourful crop top for another.
And I'm ready for #PrideInLondon! ??️‍? #pride #pridejubilee #londonpride #loveislove #pridematters #lgbt https://t.co/JtUsQq7x4L pic.twitter.com/Vnn3xvdaKH

— Aaron Richardson (@AaronLR1991) July 6, 2019
When your multicoloured wristband stack matches the multicoloured soles of your shoes.
Just a few wristbands from #LegalPride. ?️‍?? #PrideInLondon #PrideJubilee https://t.co/NcVYRNJbiW pic.twitter.com/IuDE1FG91s

— Aaron Richardson (@AaronLR1991) July 6, 2019
Happy Pride 2019! ?️‍?
Comments on this article are now closed.