Widely-condemned court closures are means of 'liberating capital' where 'money is not limitless', select committee hears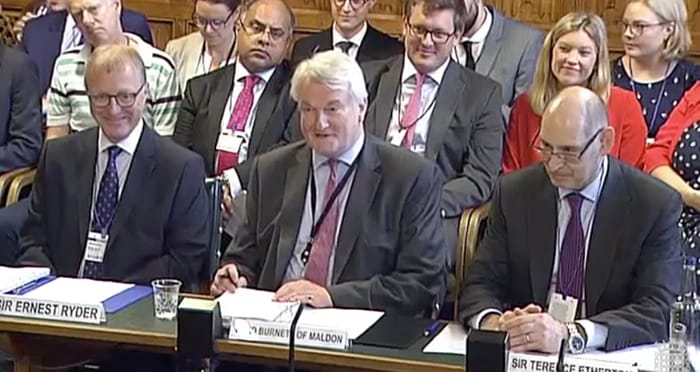 The three heads of the judiciary rang rings around MPs yesterday during an evidence session of the House of Commons justice select committee.
As part of its inquiry into what has been labelled the "hugely ambitious" modernisation programme of the courts and tribunal services (HMCTS), MPs attempted to cross-examine the three justices (the first time they have appeared together before the committee) with a number of concerns, such as over the potential reduction in access to justice as a result of mass-digitisation.
Lord Burnett of Maldon, the Lord Chief Justice, took the lead on rebuffing such concerns by stating: "No litigant-in-person will be required to use digital services", reassuring the committee that paper versions would still be available.
The star-studded judicial line-up in the committee room, featuring not only Lord Burnett but also Sir Terence Etherton, current Master of the Rolls, and Sir Ernest Ryder, Senior President of Tribunals, also fended off criticism over a dystopian vision of online courts where evidence is submitted online and decisions are made online, often in a vacuum of legal advice.
Burnett's repost was that any such processes would not be used where it would not be suitable, for instance in crime cases, and that the way any case was run would still be "under judicial control", arguing: "[Those concerned] are directing criticism at things that are not in contemplation."
Court closures, a staggering 162 magistrates courts and whopping 62 county courts in recent years, were also raised by Victoria Prentis MP, a member of the justice committee (and a former pupil of Lord Burnett's at Temple Garden Chambers). The response from Lord Burnett was that such closures were there "to liberate capital", and that ministers decided on court closures only after "very wide consultation" concluding that "in all of this the government has struck a balance of trying to achieve a proportionate outcome where money is not limitless."
The modernisation programme, a joint enterprise between the Ministry of Justice (MoJ) and the judiciary, is aimed at digitising paper-based services, putting some cases online, introducing virtual hearings and closing courts.
Though long-suspected of being a response to austerity, Burnett made the case for the programme:
"This is a long-overdue modernisation of our system which has ossified over the last 20 years with a lack of resources. The reform programme is about a lot more than digitisation. We can't stand still. As the public at large uses tech, it would be quite remarkable if the courts alone among all aspects of society didn't attempt to keep up."
The committee's inquiry was set up in response to another committee's eye-popping report on the modernisation programme. In 2018, the Public Accounts Committee described the programme as "hugely ambitious and on a scale which has never been attempted anywhere before."
The report stated that "such sweeping changes will be extremely challenging to deliver," highlighting that HMCTS was already behind schedule. Perhaps more concerning, however, was the report's warning that "HMCTS needs to ensure that the savings expected from these reforms are genuine rather than the consequence of shunting costs to other parts of the justice system such as the police, prison service or Crown Prosecution Service (CPS), all of which have their own pressures to manage."
Indeed, throughout the session, the elephant in the room was the chronic lack of funding in the justice system: whether that is for legal aid, for decrepit courts, and so on. As Lisa Wintersteiger, chief executive of the access to justice charity, Law for Life, neatly put it in the previous evidence session of this inquiry in June:
"There is a sense that the technology can be a panacea for the evisceration of the advice sector and the loss of legal aid."