Hillary Clinton and Nelson Mandela also score highly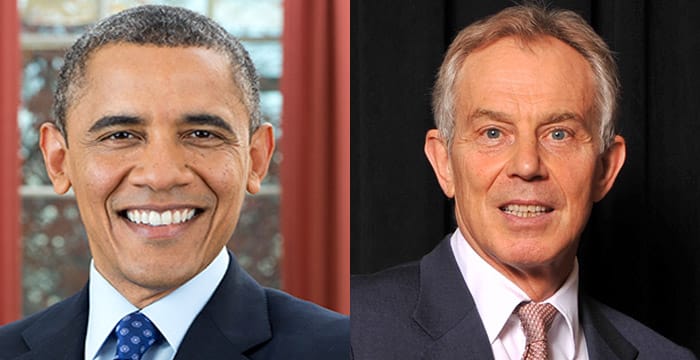 Harvard law grad Barack Obama wins a whopping 30% of the UK public's vote on who they would want as their 'ideal' legal representative. Whereas, Oxford man Tony Blair is voted the person that the public would least like to have as their lawyer.
The survey of over 500 people pinpointed the most popular choices for the ideal lawyer: alongside Obama, fellow Democrat, Hillary Clinton, as well as Nelson Mandela, scored highly.
The survey also looked into the ideal character traits of lawyers, and found that almost a quarter of people wanted their lawyers to be "confident and committed" and 18% expected them to be helpful and capable (only 18%??).
But when asked what lawyers are really like, respondents to the survey (that was commissioned by mmadigital, a digital marketing company for law firms) opted for "arrogant and obnoxious" (20%), "dishonest and sneaky" or "picky" and "finicky" (12% for all of those damning descriptions).
If lawyers are perceived to be as bad as this then no wonder that robots are preferred by around a third of respondents. But, strangely, they are preferred not because they would be any less dishonest or finicky but because they could be available 24/7 and would be more accurate and faster. Robots are not the answer for around half of respondents, however, who valued the "empathy" and "personality" that a real person brings to the party.
The survey's conclusions over Obama and Blair chime with the views of both lawyers in the popular imagination. Barack Obama has retained a profile as an honourable chap, and his observations on the law remain considered:
In his autobiography, Dreams of My Father, he wrote: "The study of law can be disappointing at times, a matter of applying narrow rules and arcane procedure to an uncooperative reality … But that's not all the law is. The law is also memory; the law also records a long-running conversation, a nation arguing with its conscience."
Tony Blair, however, is perhaps more remembered for the laws that he brought in, such as the Human Rights Act and Freedom of Information laws (or the laws that were allegedly broken in the run-up to the Iraq War), as opposed to the lawyer he once was — let's not forget that he did always say that his wife, former Matrix Chambers barrister Cherie Booth QC, was the better advocate.